On Friday, Bergen, Norway became witness of a historical event when the ro-ro Taiko crew was awarded an operational medal in regard to their assistance to the Norwegian Armed Forces and the Norwegian government in the carrying out of the U.N. mission aimed at removing chemical weapons from the country of Syria.
Back in December of 2013, the Norwegian government hired Taiko for the purposes of transporting Syrian chemical weapons abroad for them to be subsequently destroyed. Ark Futura, a Danish cargo carrier, the Danish Absalon-class support ship HDMS Esbern Snare, the Norwegian Fridtjof Nansen-class frigate HNoMS Helge Ingstad along with several Russian, Chinese and British warship vessels also took part in the operation. Chemicals were loaded on Taiko at the Latakia port, Syria and were then transported to Finland and the United States to be destroyed.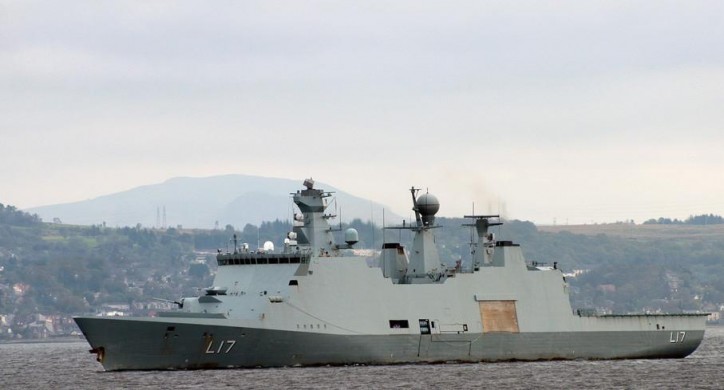 Photo of HDMS ESBERN SNARE: deivid
"This day will go down in the history books," said Jan Eyvin Wang, Wilh president and CEO.

"The last time when a civilian seafarer or commercial vessel received a medal from the Norwegian Armed Forces was during the Second World War."
During the course of the mission, 43 civilian seamen from Wilhelmsen in total served aboard Taiko along with Norwegian Armed Forces representatives.
"We view this as a type of recognition of the crew's ability and competence of knowing how to deal with the mission," comments Wang. This instance marks the very first time that a commercial vessel and its crew members have been under military command for such a long duration of time.

"This mission had a high level of importance regarding both Norway and the United Nations. Given the fact that it was a highly complex mission it was only natural that we require a close co-op effort between Armed Forces, chemical weapon handling specialists and the Taiko crew's competence of loading and respectively discharging cargo. Close co-operation along with teamwork and the best of competencies were the key part for our success," comments John Gunnar Refsnes, military captain aboard Taiko and serving the role of Taiko's military commander during the course of the mission.

"Our collaboration with the Navy was really an honor and a complete pleasure. We managed to learn a lot from one another and with a combined effort we were able to carry out this rather complex mission. The cargo was in a way special for us, but we, however, managed to utilize at the fullest our high quality seamanship skills and efficient cargo handling abilities," adds Espen Derbakk, Taiko's shipmaster.