Rolls-Royce has managed to sign an order for delivering a Live Fish Carrier, which will be the 3rd vessel developed by the company for the purposes of the Norway-based Solvtrans AS ship operator, one of the biggest transporters of live fish in the world.
The NVC 387 type vessel is to be constructed by the Kleven shipbuilding company at their Norway-based shipyard of Myklebust. The contract that the company has managed to strike with the yard features an option for a 2nd vessel. The previously delivered two ships to Solvtrans, that had a similar design, were constructed in Spain.
"Solvtrans' requirements regarding its fleet are for vessels that demonstrate the highest of levels regarding technology, eco-friendliness and redundancy. We are nothing but proud that we have been chosen once more for developing their fleet renewal. The innovative vessel design we provide guarantees fuel efficiency, cost effective operations and low emission levels," commented Monrad Hide, VP Sales for Rolls-Royce Europe.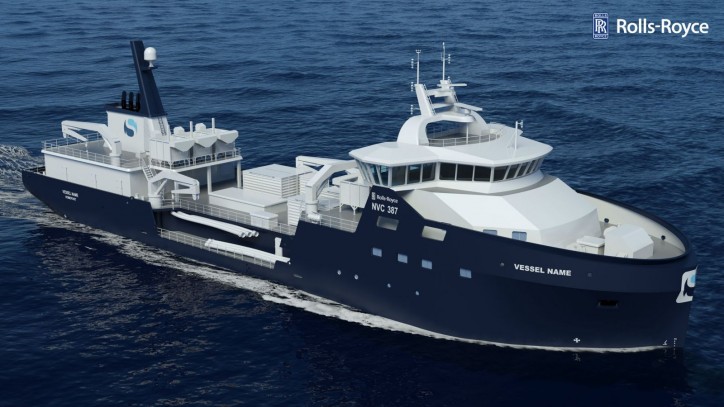 The load capacity of the live fish carrier is 3200 m3 and it is equipped with three tanks that are capable of taking in up to roughly a total of 500 tons of live fish. For the live fish to be transported in an efficient manner and in a healthy condition from the respective fish farms to the fish processing plants that are located on shore, there is a need for special tanks that offer the option of controlling the temperature inside of them. The primary objective is to get the fish as fresh as possible to the end consumer, and thanks to this custom Rolls-Royce vessel design this is made possible.
The bow's shape is specially designed in order to optimize the cargohold all the while minimizing resistance in conditions of both waves and calm water as well as limit the amount of energy required. By doing this fuel consumption levels are decreased which directly affects the environmental footprint of the vessel by minimizing it, while improving onboard conditions for the crew and the fish.
This current vessel will be the 4th live fish carrier that uses as basis the Rolls-Royce technology.
Rolls-Royce is also responsible for comprising the propulsion systems, rudder and steering gear, automation systems, power electric systems, an advanced propulsion control system and deck machinery for the purposes of the said ship.
Expectations are that the vessel will be successfully delivered in March of 2017.