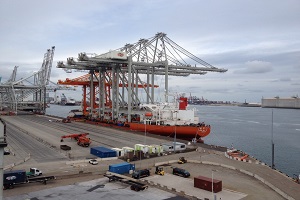 On June 16, after а more than two-month-long sea voyage from Shanghai, three new super post panamax ship-to-shore cranes arrived at the ECT Delta Terminal at the Maasvlakte, Netherlands.
The new port equipment machinery is part of a comprehensive investment programme at the ECT Delta Terminal, that will give the port capabilities to simultaneously handle various 20,000-TEU vessels under virtually any circumstances.
The cranes' lifting height is 50 metres under the spreader. They have a reach of 24 containers, which is more than sufficient to handle serving of the very large container ships, even larger than 20,000 TEUs.
Another five of these cranes were commissioned by ECT Delta Terminal in 2014. With the new arrival, ECT is further expanding its facilities to handle Ultra Large Container Ships (ULCS).
The new cranes can be controlled by ECT's crane operators from a remote control room.The ULCS quay, which is at the south side of the ECT Delta terminal, has been tested for remote control operation, since the beginning of June.
The ECT Delta terminal handles about 36 deep-sea vessels, 170 feeder vessels and almost 500 inland barges at its quays weekly. Except the vessels, 120 trains and 22,000 trucks are unloaded and loaded.