UK based Peel Ports Group has just released a video about the Liverpool2 terminal project. The new terminal at the Port of Liverpool is estimated to cost approximately £300 million $500 million.
Contractors Bam Nuttall and Van Oord have passed a major construction milestone in the project.
The two engineering companies completed the first phase of the infilling, using 1.43 million tonnes of sand and silt, deposited from dredged material.
In 2014, the piling process over nearly 12 hectares of land was started, which is due to be completed within the next few months. The work involves drilling from large jack-up rigs and inserting tubular piles to create a new 854m long quay wall. Furthermore, the area behind the wall has been dredged to bedrock to allow for virgin materials to be deposited.
The Willem van Oranje trailer suction hopper dredger started the infilling of Liverpool2 area, after its arrival in the river Mersey in February this year.
The TSHD vessel is operated by Dutch specialist Van Oord. It has a handling capacity of 10,000m3 (21000 tonnes).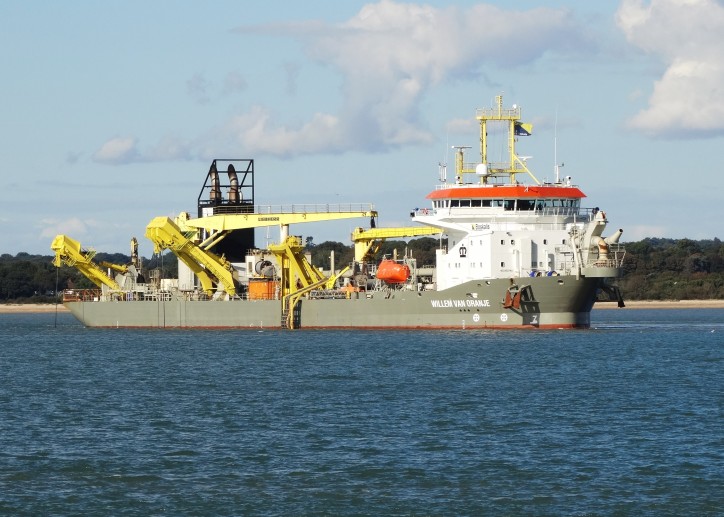 Image by: Peter C Olsen
The Van Oord dredger took materials from a site 20 miles away from Liverpool2, with each dredging and discharge operation taking about 6.5 hours from beginning to end.
In the beginning of July, the dredger is expected to begin the second campaign of infilling, which will see a further 4m tonnes of dredged material being harvested from the Mersey river.
Other significant elements of the project to date include:
installation underway of 261 anchor blocks 3metres below the current infilled level;
connection of the anchor block to piles with steel bars, to straighten and tension the quay wall structure;
vibro-compaction of the infill to settle it and drive out water;
220m extension to an existing sewerage outfall through the site, towed in a single piece from Norway;
installation of drainage works directly behind quay wall;
upfill from (+)6.5 metres to (+)10 metres to cover the tie bars and anchor blocks to the top level of the piles.