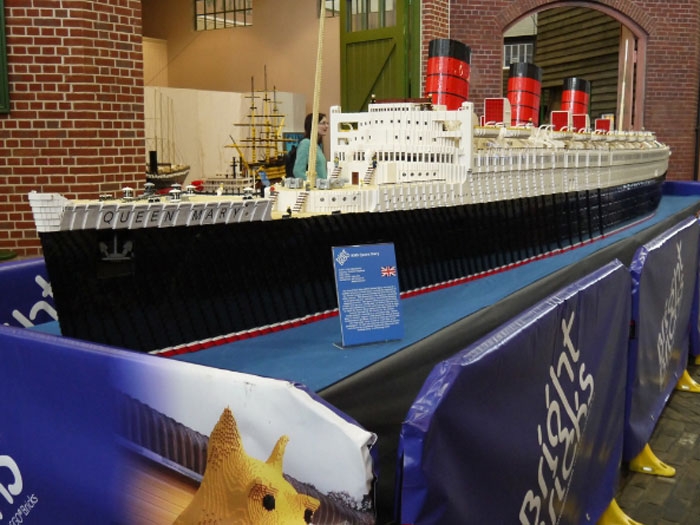 A model of the Queen Mary made entirely out of Lego parts is currently on display on the iconic ocean liner in the Long Beach port and it is the largest Lego ship model in the whole world.
When Bright Bricks, British certified Lego constructors, decided to build the model in order to commemorate the actual vessel, they never even thought that their creation would arrive to Long Beach and be put on display on the legendary Queen Mary.
"A large number of worldwide companies have hired us to interpret their respective products or brand via the use of Lego bricks. In this case, however, we decided to construct the Queen Mary purely for our satisfaction. In order to carry out the task we needed four professional constructors and more than 250,000 Lego bricks. We spent approximately 4 months to build the "mini" vessel," commented Ed Diment, co-founder of Bright Bricks.

"By managing to secure the agreement of displaying our model on the actual Queen Mary we've been able to enjoy a perfect ending to this splendid Lego adventure of ours," he further said.

"I'm thrilled and patiently waiting for kids' expressions when they come and visit the exhibit and are faced by this enormous Lego brick model. And for those among them that are tall enough – they may notice a small top-hatted figure of Sir Winston Churchill upon the upper deck of the vessel," commented John Jenkins, Queen Mary General Manager.
In order for people to get to enjoy a better connection with the Queen Mary's historical persona, it was decided to put the model on display in an exclusive space, that is the Shipyard, and to place Bright Brick construction stations all around it where kids and Lego-enthusiasts in general will have the opportunity to construct their very own version of the vessel or whatever they practically desire. The model room itself is going to come along with four construction tables and is going to be under the supervision of the Queen Mary's staff.
The actually Queen Mary vessel has a length of 1,019 feet. The Lego model, while not being able to hold up to those kind of standards, is actually pretty respectable itself with a length of 25' 11", a width of 3' 1" and a height of 4' 7". It weighs 604 lbs and it took 600 builder hours to be completed.
The Lego company has granted certification to just several model makers – there are merely 16 in total around the world. England-based Bright Bricks is a well-established creative resource and is home to the only Lego Certified Professional in the U.K., Duncan Titmarsh.