Norway-based shipbuilding company Kleven has managed to win an order for constructing two stern trawlers that are to serve the purposes of DFFU, an Icelandic seafood company Samherji wholly owned German subsidiary. They are going to be manufactured in accordance to the NVC 374 WP design that belongs to Rolls-Royce and if all goes according to schedule they should be delivered from the company's Myklebust yard in respectively February and June of 2017.
The two vessels are going to be among the first of their type to be equipped with Rolls-Royce's wave piercing bow design.
"We aim to achieve sustainable fishing and by acquiring these two brand new ships we will be making an important step forward regarding our development," commented Torstein Mar Baldvinson, Samherji Group CEO.
Samherji Group is among the largest investors in the world when it comes to the shipping industry.
"We aim to greatly improve our crew's working as well as living conditions and we've placed that on top of our list of priorities. Along with complying with some important eco-related criteria, we believe that the two vessels are going to help the company along with its employees to make the best of its future."
Each of the two ships will have a length of 80 meters and an ICE 1A class hull, as well as an onboard factory for producing fish filets. They will have a 1,400 cu. m. storage capacity, a 550 cu. m. packaging and freezer room, located on deck.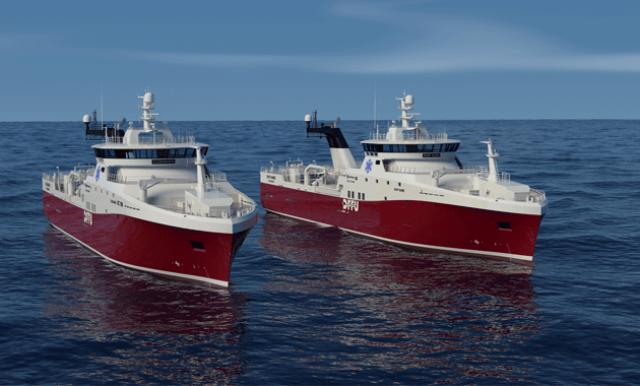 Both vessels will feature a wide array of Rolls-Royce-provided equipment, such as main engines, automation, thrusters, the fuel efficient wave piercing design and winches.
When developing each vessel's design and equipment low emission levels, operational efficiency, safety, crew comfort and perfect seakeeping capabilities were among the main areas of consideration.
"It has been such a pleasure to be able to work alongside a knowledgeable yard of this type. The design and equipment we have provided will guarantee that these are among the best fishing vessels in the whole world. Each of the two is going to feature the company's latest B33:45 engine model and they are going to serve as the first fishing vessels to be equipped with our wave piercing bow design."
This current fishing industry contract is the second one signed in June regarding a Rolls-Royce designed ship that is to be constructed by Kleven's Myklebust shipyard. Back on the 13th of this month, Kleven and Rolls-Royce made an announcement regarding a Live Fish Carrier order for Solvtrans AS, which is among the largest live fish transporters in the world.
"When you look at our 100-year-long history, you will find that fishing vessels were the foundations of our company. Having acquired contracts for constructing 3 new ships, all along the lines of Rolls-Royce's design, in merely a couple of days, we have been able to secure continuity for our workers at Myklebust Verft, which is a big achievement for us when regarding the tough market situation at the moment," commented Stale Rasmussen, Kleven CEO.
Source & Image: Rolls-Royce