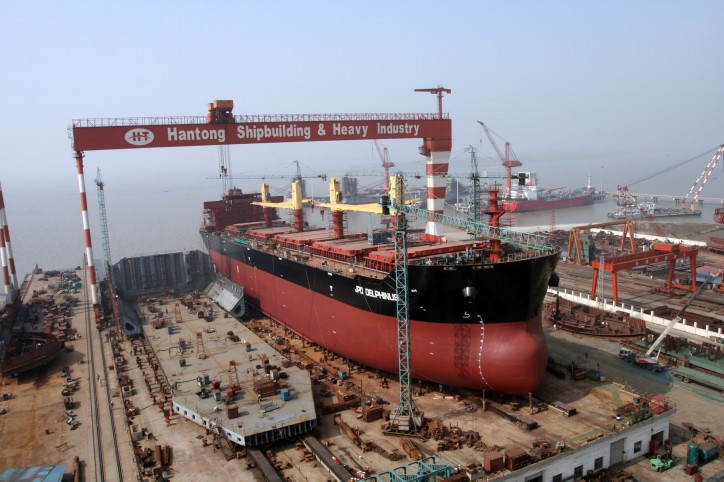 Under the China Association of the National Shipbuilding Industry (CANSI) 88 China-based shipbuilding companies accounted for a profit level in the amount of CNY 2.06 billion (USD 330 million) for 2015's first five months, which demonstrates a 17% year on year (y/) increase.
The total revenue of the shipyards amounted to CNY 102 billion during the said period, which is a 4.4% y/y increase, with their industrial output in total being up by 5.5% y/y and sitting at CNY 163 billion.
During Q1 of this year, new orders at China-based shipyards demonstrated a 76.8% y/y fall due to the sluggish state of the shipping and offshore market, while at the same time the profit of the yards slumped 87.8% y/y to a level of CNY 170 million, as made evident by CANSI data.
Profit continued to drop in April and for the January-April time frame, the profit of the shipyards was in total of CNY 1.85 billion, demonstrating a 18.9% y/y drop, their revenue, however, displayed an increase of 5.3% y/y, going up to CNY 87.6 billion.
The primary problem that the shipbuilding industry is faced with at the moment is the market's shipping capacity oversupply that is contributing for the decrease in newbuilding trade volumes, as well as for the low prices of newbuildings.
The Made in China 2025 plan was released by Beijing in May in order to enhance the country's manufacturing capabilities, including high-technology vessels and ocean engineering equipment, thus aiming to help the shipbuilding sector.
The Ministry of Industry and Information Technology further emphasized on the fact that the demand for new vessels is not going to remain as it is now in the future. There will be lower demand levels regarding regular ships like bulk carriers, and a higher demand level for high-technology vessels and offshore facilities. Eco-friendly and cost-effective ships are also going to be mostly sought by the market.