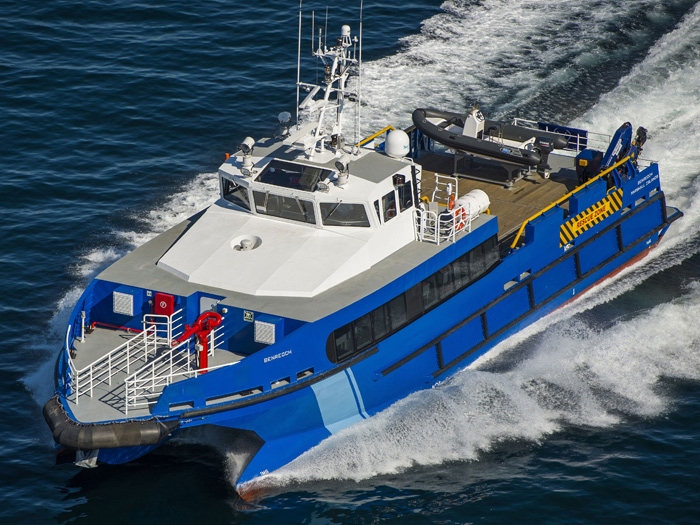 The South African shipyard of Veecraft Marine located in Cape Town has reported the successful delivery of the 30-meter Benreouch, an Incat Crowther wave piercing catamaran utility craft designed especially for the purposes of transferring appointed crews to Nigeria's offshore platforms.
Having a length of 30.3 meters and a 8.5-meter beam, Benreoch exceeds the length and width of its predecessors respectively by 2.7 meters and 1 meter. The two vessels that carried out the transferring procedures prior to the arrival of the new unit were Topaz Zephyr and Topaz Zenith.
The bigger platform has been utilized to expand the aft working deck capacity, which offers a 53-square-meter cargo area and carries a crane along with a rescue boat. The size of the aft deck allows it to transport 10-foot and 20-foot container units in a wide range of configurations and has a 20-foot self-container accommodations module that is able to house eight crew members, most probably part of the vessel's security detail. The wheelhouse is integrated with ballistic protection, a slight reminder of the harsh reality that many ship operators are faced with in offshore Nigeria.
The main deck cabin comes along with 22 big, comfortable forward-facing seats. There is a captain cabin located on the main deck as well, along with a 6-person cabin and 4-person cabin, with each of them being provided with their own bathroom.
The starboard offers a mess and a galley as well as a small laundry. Going up by the adjacent stairs ones reaches the upper deck wheelhouse and the hulls, each of which comes along with a twin cabin. The wheelhouse features forward and aft-facing control stations that provide good cargo deck and foredeck visibility that is further enhanced by high windows and blinds forward and aft.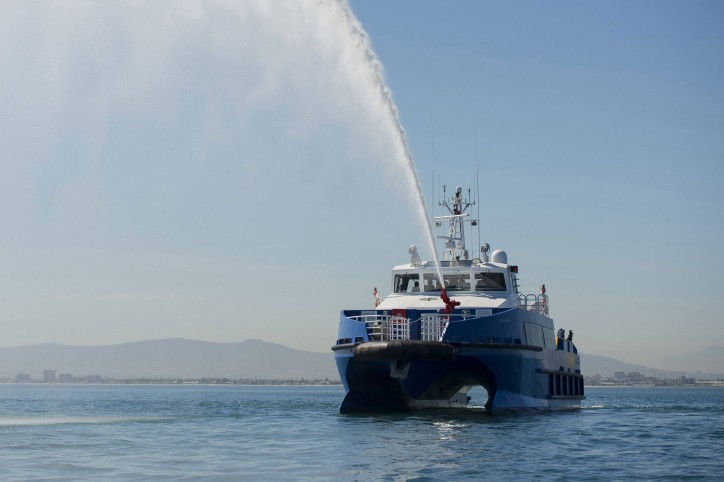 Photo: Incat Crowther
Among the piercer hull's benefits is that it provides for Benreoch's bow to interface cleanly with the offshore platform, while at the same time being well clear in all of the other areas, thus avoiding any hull damage risk and preventing potential crush injuries. The bows of the vessel are well back from the foredeck's outline in order to minimize the risk of forepeak damage or having the hull hang up on structures.
Benreoch comes equipped with two Caterpillar C32 Acert main engines, each of which produces 1,081 kW, thus providing the vessel with a cruising speed level of 26 knots and 30-knot-level of maximum speed potential.