The Port of Singapore has been awarded for the 27th time as the Best Seaport of Asia at the 2015 Asia Freight, Logistics and Supply Chain Awards (AFLAS).
The event was by organised freight and logistics publication Asia Cargo News and took place on June 24 in Hong Kong.
Nominees at the AFLAS awards were organisations, demonstrating leadership as well as consistency in service quality, innovation, customer relationship management and reliability.
The award of Singapore Port was determined by votes cast by readers of Asia Cargo News.
Its leading performance came as a result of achieving a range of criteria, such as cost competitiveness, container shipping-friendly fee regime, provision of suitable container shipping-related infrastructure. Also investments in new infrastructure were taken into account, if they were adequate and applied in proper time, to meet the industry demand and the facilitation of ancillary services.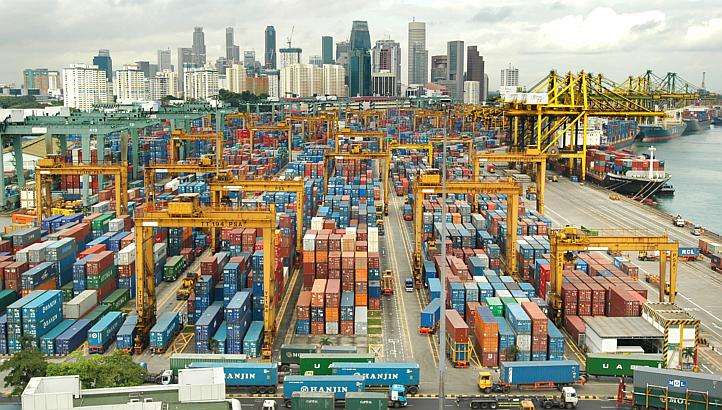 Image: financial.am
Port of Hong Kong and Port of Shanghai are the other two finalists in the category at AFLAS awards this year.
The Chief Executive of Maritime and Port Authority of Singapore (MPA), Mr Andrew Tan said:
"We appreciate the recognition that we have received over the years and thank our partners and customers for their strong vote of confidence. We will continue to work closely with all our stakeholders to strengthen our competitiveness as a premier global hub port and international maritime centre. Singapore will also continue to plan and invest ahead, such as our commissioning of Pasir Panjang Terminal Phases 3 and 4 this week, which will increase the overall capacity of Singapore's port to 50 million TEUs when fully operational."
MPA's Director of Port Policy, Mr Tan Cheng Peng, received the award on behalf of the Port of Singapore.
Prime Minister Lee Hsien Loong officially opened PSA Singapore's latest Pasir Panjang Terminal Phases 3 and 4 development on June 23, 2015. The expansion works are expected to be completed by the end of 2017. Port authority officials believe that after the completion of the expansion project, Singapore Port will be able to handle 50 million TEUs per year.
Reports show that the Port of Singapore continued to achieve good growth in 2014. Its performance characteristics are as follows:
- annual vessel arrival tonnage of 2.37 billion gross tonnes (GT) ;
- 33.9 million Twenty-Foot Equivalent Units (TEUs) container throughput;
- 580.8 million tonnes of total cargo tonnage handled through the port;
- 42.4 million tonnes total volume of bunkers, sold in the Port of Singapore, which is the highest in the world;
- 82.2 million GT total tonnage of ships under Singaporean flag, which makes Singapore Authority among the top 10 ship registries in the world.