Norwegian multinational oil and gas company Statoil announced on Monday that the construction works on the first structure of the giant Johan Sverdrup offshore oil field, has begun. This is the biggest and most expensive industrial project in Norway for decades to come.
The first piece steel for the riser platform jacket was cut at the Kvaerner Verdal yard in Norway on June 29, marking the official start of production of the first elements of Johan Sverdrup project.

Image: Statoil
Kjetel Digre, the senior vice president for the Johan Sverdrup development project, said:
"This is a special day. We've been working thoroughly for a long time making the preparations for this exciting and complex project. It feels great now that we've started construction on one of the biggest industrial projects in Europe."
Johan Sverdrup is one of the biggest oil discoveries ever on the Norwegian continental shelf, located in the North Sea about 96 miles west of Stavanger. The expected resources, which the area is supposed to hold are between 1.7 and 3 million barrels of oil equivalent.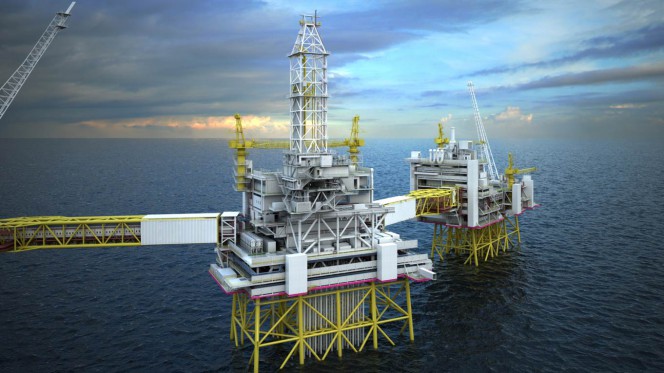 Image: Statoil
The project will be developed in two stages. The first stage will involve the establishment of a field hub consisting of four platforms, which is estimated to cost nearly NOK 117 billion or US $14.8 billion. The second phase of the project is expected to start in 2022.
The transportation and installation of the 26,500 ton steel jacket for the riser platform is scheduled for 2017. The construction, because of its enormous size, will be shipped out to the field on the Heeremas H-851, which is the biggest heavy lift barge in the world.
"We've got an ambitious plan to bring Johan Sverdrup on stream in late 2019 and in accordance with this plan, we've now started to produce first building bricks for the project," says Digre.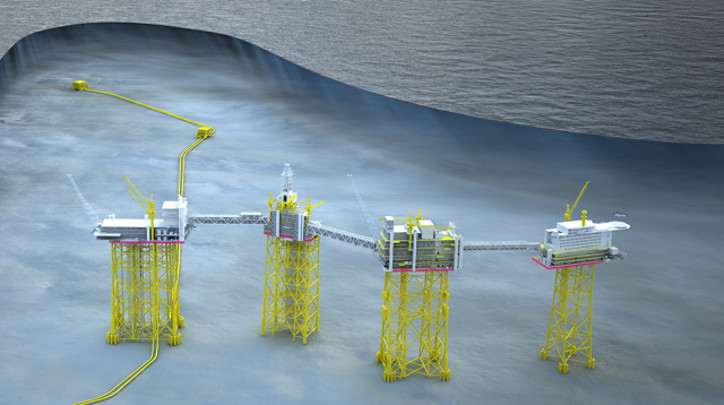 Image: Statoil
The oil production at the field is expected to begin at the end of 2019 with estimated daily quantities of 315,000 – 380,000 barrels, during the first phase.
According to the company, the total production revenues from the field could reach NOK 1,350 billion over 50 years.
Several Norwegian companies are taking part in the Johan Sverdrup project: Statoil, Lundin Norway, Petoro, Det norske oljeselskap and Maersk Oil.
Statoil was recommended by the partnership to be field operator for all project phases.