In a company press release, CMA CGM Group announced that two major economic partnerships will be signed, during the Chinese Prime Minister Mr Li Keqiang's official visit at its headquarter on July 1st.
CMA CGM and the Export-Import Bank of China (CEXIM) will sign a framework agreement on financing solutions for a total of up to USD 1 billion in the form of loans and/or export credit insurance.
The second agreement that is about to be signed is in relation of achieving a strategic partnership with China Merchants (CMHI) on the "One Belt, One Road" project initiated by the Chinese government.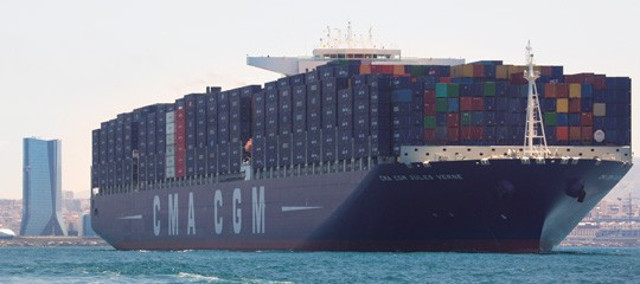 Image: CMA CGM
The financing solutions from the USD 1 billion package would be available for the future vessels and containers CMA CGM Group may order in China. Those investments are essential to accompany the Company's development strategy.
The orders for most of CMA CGM containerships have been given to the Chinese group CIMC. Recently, the Group started to place orders to Chinese shipyards for some of its container carriers.
Until the end of 2015, the CMA CGM Group expects the delivery of three 18,000 TEUs vessels from Chinese shipyards. Those will be the Group's largest vessels and the largest to have ever been built by Chinese shipyards.
The "One Belt, One Road" project is a high profile strategy initiated by the Chinese government to develop many infrastructure and ports-related logistics projects.
It is most certainly the world's most ambitious infrastructures development project. Initiated by the Chinese Government and its President, the project has two main targets:
- to create a land axis between China and Europe via Russia;
- to create a 21st century silk road that will link South East Asia to Oceania, East Africa, North Africa and Europe by the sea, in order to secure imports and exports to and from China.
According to the Group, both agreements strengthen the ties between CMA CGM and Chinese groups, which also affirm CMA CGM's position in China.