Back in the last days of May, this year, the Royal Navy's HMS Protector Ice Patrol Ship was coated with Ecospeed at England's A&P Tyne Ltd. shipyard in Tyne and Wear.
The ship operates 330 days on an annual basis, primarily carrying out tasks in the vicinity of the Antarctic. Thus, in order to be fully sufficient for the conducting of the appointed operations her underwater hull has been designed to withstand the harsh icy conditions that she faces daily.
Constructed in Norway in 2001 as the MV Polarbjorn, she carried out operations under a charter deal serving the role of a polar research icebreaker and a subsea support vessel till 2011 when Britain's Ministry of Defense got her on a charter as a temporary replacement for another ice patrol ship, HMS Endurance after which she was bought in September of 2013.
Before beginning her respective Royal Navy charter, she went through a 10-day refit procedure. Her helicopter deck which originally was positioned above the bridge was relocated over the stern. A brand new echo-sounder was installed for surveying purposes. The vessel also received some modifications in order to allow for the transportation of vehicles and ancillary vessels (all-terrain vehicles, survey boats) which are used to provide support to the British Antarctic Survey.
The major objective when regarding hull coating for icebreakers and ice-going vessels in general is to make the coating in a manner that will allow it to sufficiently protect the hull in the harshest of marine conditions.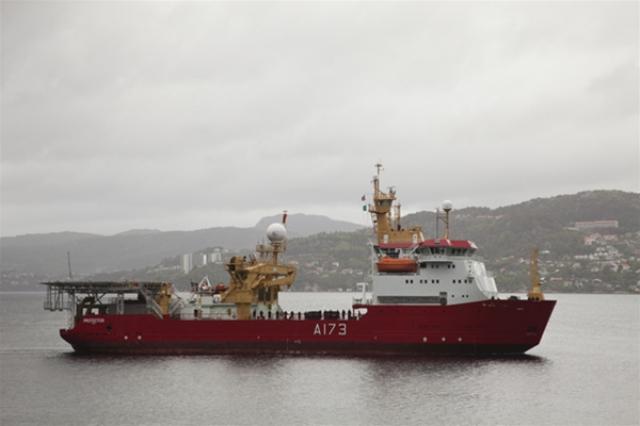 Photo: Deivid
The Ecospeed coating has demonstrated perfect attachment qualities to the hull and successfully manages to cope with extreme icy conditions.
For more than 7 years a large number of ships coated with Ecospeed have been operating as far as the South and the North Pole. Their underwater hulls have to endure on a frequent basis the impact of big pieces of floating dry ice. None of the vessels, however, have been in need of more than merely a couple of touchups while back at its respective dock.
Ecospeed has managed to acquire Llyod's Register certification thus proving that it is truly an abrasion resistant ice coating. This makes it possible for vessel owners that have intentions of navigating in ice conditions to greatly reduce the ice belt's scantlings – a specific area of the bow that is located just above the waterline and that is usually most prone to sustaining mechanical damages that might result from sailing through ice – if they simply coat the area in question with Ecospeed.