The Yacht Support range that was launched in a co-op effort by Damen and the Dutch AMELS luxury yacht builder has marked the start of its next development stage with the sale of an all new 69-meter Yacht Support vessel. The brand new SEA AXE 6911 serves at the 1st in the Yacht Support range to be equipped with an ultimate technical area for the purposes of carrying out significant helicopter operations – a completely enclosed hangar located beneath the LY3/MCA fully certified helideck, as reported by Damen via a press statement.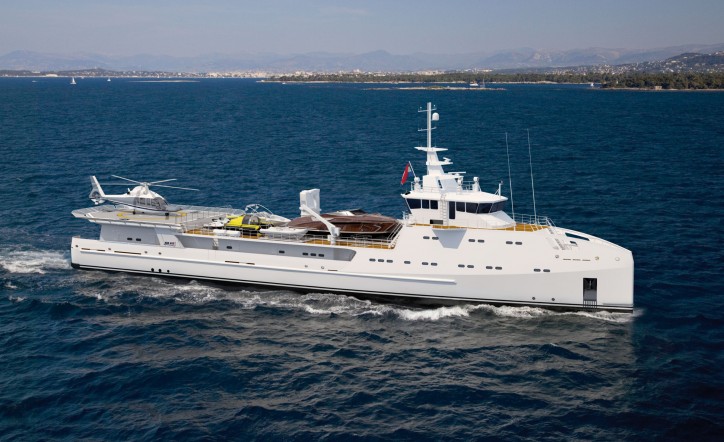 Image: Amels
The vessel is currently being constructed at the Damen Shipyards Gorinchem that is located in the Netherlands and if all goes according to plan it is to be delivered in June of next year, serving as the fifth purpose-constructed Yacht Support vessel to be successfully delivered since AMELS and Damen unveiled the innovative new concept and put it out on the superyacht market back in 2009.
The head of Damen's dedicated Yacht Support team, Mark Vermeulen, who serves the role of Product Director commented that the new project makes full use of the experience that was gained by the company in previously delivering GARCON and 6711, and also naturally takes into consideration client input.
Along with the helicopter hangar, the platform also features a dedicated helicopter workshop that is located below the deck, 250 square meters of deck space for various tenders and toys, a perfectly-equipped dive center, a below deck storage of a 110 square meters. Additionally, given that the vessels is roughly 1,200 gross tonnes, it is big enough to sufficiently accommodate a 22-man crew while managing to sail at a speed level of 20 knots.
The Yacht Support Range uses as basis Damen's SEA AXE patrol and supply vessels that demonstrate a high level of speed. It was developed for the purposes of more demanding superyacht owners who go all around the world having to carry more tenders, toys, provisions, personnel, specialized gear and helicopters, of course. This new innovative solution provides a wider range of possibilities regarding luxury yachting experiences and generates a fair share of interest, especially for destinations that have less developed infrastructure.
AMELS has a thorough understanding of the manner in which superyacht clients can get to enjoy the complete set of perks that come along with the Yacht Support Solutions, while Damen's dedicated Yacht support team takes care of other aspects such as research and development, naval architecture, engineering and construction.