By 2016, 24 of the largest ships in the German Hapag-Lloyd's fleet will be fitted with a new bulbous bow, and some will also get optimised propellers. This will enable the vessels to consume less fuel and produce lower levels of emissions.
The bulbous bow is a protruding bulb at the bow (or front) of a ship just below the waterline. The bulb modifies the way the water flows around the hull, reducing drag and thus increasing speed, range, fuel efficiency and stability.
Image: Hapag-Lloyd
Large ships with bulbous bows generally have a twelve to fifteen percent better fuel efficiency than similar vessels without them. A bulbous bow also increases the buoyancy of the forward part and hence reduces the pitching of the ship to a small degree. They are as high as a truck and weigh about 250 tonnes.
"For this reason, we continuously analyse how to make our ships even more efficient," commented Richard von Berlepsch, Managing Director Ship Management.
As a result, this distinctive part of the vessel is now being retrofitted in four of Hapag-Lloyd's biggest ship classes.
Two shipyards in Shanghai will refit the ships one by one. The 13,200 TEU ships in the "Hamburg Express" class and the 8,750 TEU vessels in the "Colombo Express," "Prague Express" and "Vienna Express" classes will be optimised with new bulbous bow.
The Company identified additional optimisation potential even in their most modern vessels, those in the "Hamburg Express" class. Several changes to the stern of the ships will be made, also the propellers at the rear will be replaced.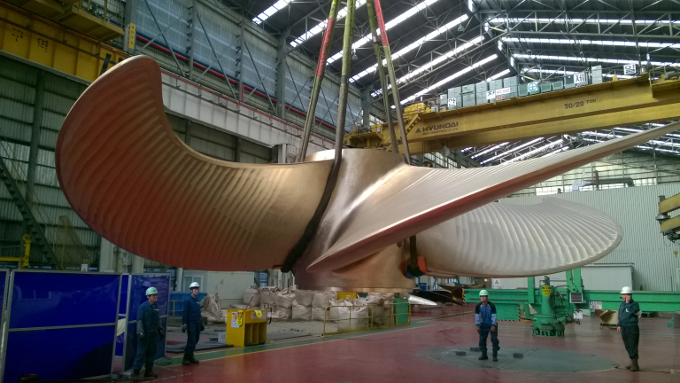 Image: Hapag-Lloyd
The new propellers with a diameter of 9.20 meters are slightly larger than the old ones, which were 9 metres, but also about 11 tonnes lighter. Furthermore, there are now five instead of just four blades attached to the hub.
Hapag-Lloyd's engineers believe that the optimization measures will lead to fuel savings of roughly 10 per cent for the 13,200 TEU vessels alone.