The death toll from the ferry that capsized on Thursday in the central Philippines has risen to 41 after rescuers recovered three more bodies from the hull.
The motorized, wooden-hulled ferry MBCA Kim-Nirvana was carrying 173 passengers and 16 crew members when it rolled onto its side and overturned minutes after leaving the port of Ormoc City on Thursday. There were 134 survivors.
Asher Dolina, the Philippine National Police Director said that high waves and strong currents on Friday forced divers to postpone efforts to search the sea floor off Ormoc, but rubber boats continued to scour the surface for survivors. Twelve people are still missing.
According to reporters at the accident site, part of the upturned ferry's hull was still visible above the surface of the water on Friday.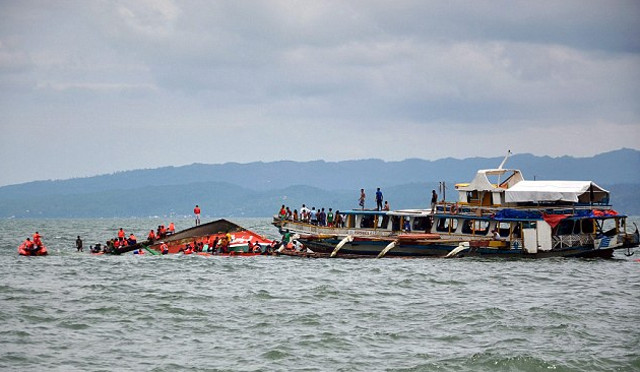 Image: NewsAsia
Coast guard personnel reinforced by a Philippine navy ship and two air force planes conducted the search and rescue operations, which continued through the night.
Coast guard spokesman, Armand Balilo, stated that a marine casualty investigation into the cause of the sinking will begin on Friday.
After leaving port in Leyte province, south of the capital Manila, the ferry was hit by a large wave. According to survivor testimonies the ferry appeared to turn sharply to the right and afterwards it overturned.
One of the survivors said: "We were given life vests but we were not able to wear them before the ferry sank"
Statistic show that tens to hundreds of people die each year in ferry accidents in the Philippines, an archipelago of 7,100 islands with a notoriously poor record for maritime safety.
Many of the country's vessels are in bad condition and the overloading with cargo and passengers is the common reason for incidents.
The local weather also is a cause for many of the ferry disasters, which occur during the typhoon season between June and October, when strong winds also unleash deadly floods and landslides.
The disaster-plagued Philippines is hit by about 20 typhoons and storms each year, many of them deadly.
Related News: Ferry carrying 173 passengers sinks in Philippines, 36 dead