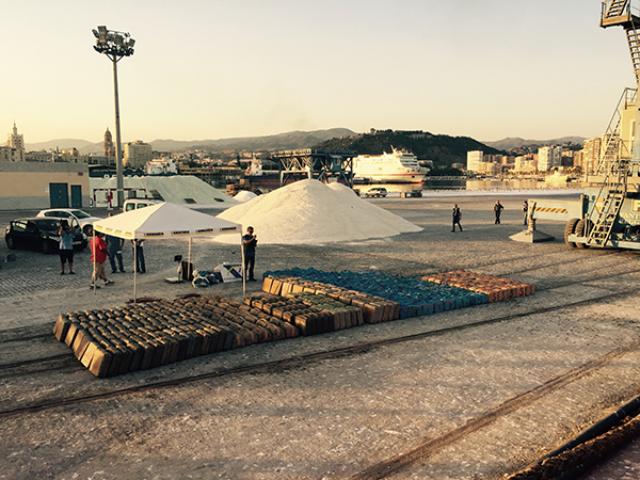 This week, Spanish authorities managed to intercept a cargo carrier transporting a 24-million-euro (USD 26.6 million) load of hashish resin.
A Europol appointed team was able to discover the roughly 16-ton haul after French police had sent notification regarding a suspicious ship thought to be tied with drug smuggling activities. On June 28th, as the general cargo vessel was passing along Spain's Southern Coast, near Malaga, it was boarded by specialized intervention teams appointed from the Guardia Civil. The 2,495 DWT vessel was escorted to port as the teams searched for the illegal cargo.
They were able to discover the drugs in a false bottom of the vessel that was located under tons of steel chains and loose salt. The teams found 500 hashish resin bricks with a total weight of roughly 15.7 tons. After the discovery, nine crew members were placed under arrest – three Indian and six Syrian nationals.
The Guardia Civil released a written statement reaffirming the high degree of importance regarding the close co-op effort between Spain, France and Italy in their battle against narcotics in Eastern Europe. When accounting for the past two and a half years the countries' combined task force has managed to intercept more than 20 vessels carrying drugs designated for the Eastern Mediterranean.
Drug vessels typically depart from Northern Africa and transport their respective cargo to the Eastern Mediterranean, from where narcotic shipments get distributed through various drug networks all around Europe.
The drug seizure that took place this week is estimated to have a value of 24 million Euro when regarding Spain's market but a large number of other European markets call for a higher level of the prices.