One of Russia's intelligence military ships that specialize in a vast number of aspects, one of them being US missile shield monitoring, is preparing to go through a series of seagoing test, as stated by various reports. It serves as one out of a total of four vessels that are going to be replacing some of the outdated intelligence ships among the Russian fleet.
The intel-gathering Ivan Khurs vessel (Project 18280, hull #788)'s construction is almost completed at the St Petersburg's Northern Shipyards (Severnaya Verf). The vessel was laid down back in November of 2013 and expectations currently are for it to go through its seagoing tests next year.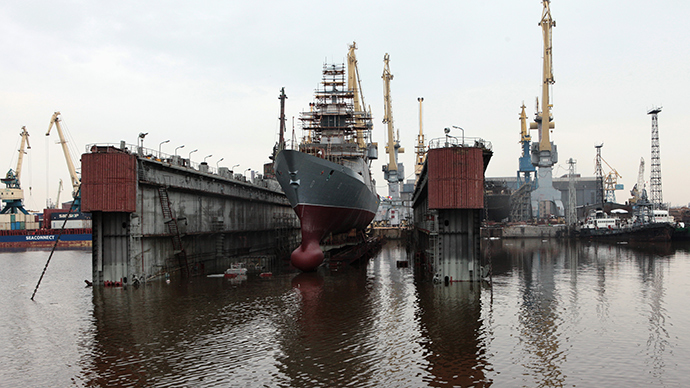 Photo: RIA Novosti / Alexey Danichev
"The ship is designed for providing fleet force communication and control; tagging of surveillance components of the U.S. missile defense system and naval SAM components; conducting radio and electronic surveillance," commented Anatoly Shlemov, the United Shipbuilding Corporation (USC)'s head of Defense Procurement and Acquisition department.
Back in January, there were reports that the vessel was getting ready for trials to take place this September. Shlemov, however, comments that the project is still up to schedule.
"The tests for the Project 18289 intelligence vessel Ivan Khurs which is designed to gather data regarding the U.S.A. ABM systems are going to be initiated in Q3 of next year," Shlemov said.
Ships designed along the lines of Project 18280 are cutting-edge intel and comms vessels, produced by the Iceberg Central Design Bureau and the Severnaya Verf yard. Russia's four fleets are all to receive one such vessel.
The vessels of the said project come along with a high level of versatility and automation and are integrated with the most modern onboard systems available. They have roughly a 4,000-ton displacement, a 95-meter length and a 16-meter extreme beam and a 4-meter draft level. The project has a range of 8,000 nautical miles on a cruise speed level of 16 knots and a 120-man crew.
Shlemov commented that the vessels of Project 18280 offer vast pre-designed potential regarding any potential further modernization procedures of the electronic equipment on board.
The Yury Ivanov (hull #787), which serves as the leading vessel of the series, was successfully commissioned back on December 30th, last year. The vessel is currently going through its final equipment trial procedures and is going to be assigned to the Russian Northern Fleet.