The shipping, energy, gas and oil sectors' leading maritime and offshore service provider that is Drydocks World has managed to successfully finish the biggest turret mooring system in the whole world.
The sail-away and completion ceremony were attended by His Highness Sheikh Ahmed bin Saeed Al Maktoum, Dubai Civil Aviation Authority President and Emirates Airline and Group Chairman and Chief Executive.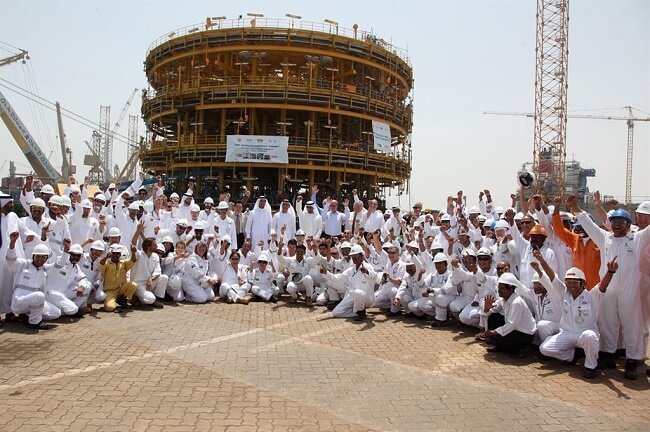 Given the turret's approximate height of 100 meters, 11,000-ton weight and 26-meter diameter, it is going to make sure that the Prelude floating liquefied natural gas (FLNG) facility is able to operate in the safest of manners possible in situations of extreme weather conditions. The brand new innovative FLNG storage and production facility is going to be stationed by Shell at the company's Prelude gas field that is located right off Australia's northwest coast, thus tapping into new important energy offshore resources in order to comply with growing demand levels.
The teams involved in the project displayed excellent teamwork and dedication thus ensuring the highest levels of quality, safety and efficiency. Given the more than 5 million LTI-free manhours carried out on the turret project, it is only natural to conclude that the company, does indeed, have quite the untarnished safety record. The project also serves as a confirmation of the company's current position among the few global specialists that cover the necessary criteria for carrying out projects of this scale.
Drydocks World has been able to deliver 5 modules for the purposes of Shell's FLNG turret mooring system, and the 5th module's delivery represents the project's completion. Dubai has built up quite the reputation for its construction projects, shattering records of all kinds and types, and by managing to complete the largest turret in the world, Drydock World's contributed toward the continuation of Dubai's record breaking streak.
This current project is a reflection of the offshore industry's global nature, given that the designs of the turret were made in Monaco, the construction stages took place in Dubai, the respective modules were shipped out to South Korea, and for use off Australia. Companies have joined their efforts to put together this innovative project for the global energy sector. SBM Offshore and Drydocks World have previously worked together on a number of key projects, coupled with a strategic alliance agreement established with Shell regarding repair and maintenance procedures. Drydock Worlds has also enjoyed the privilege of collaborating with Technip several times in the past. The opportunity of once again working jointly on this innovative project has proven to be very successful and the company is looking forward to being able to work alongside some of the other market leaders on many more projects in the years to come.
Source & Image: Drydocks World