The Chinese shipyard of Tianjin Xingang is constructing a fisheries research vessel for the Shanghai Ocean University, which is going to be the first fisheries vessel in the world to employ the Voith Schneider Propeller (VSP) propulsion concept. It also serves as Voith's first offshore order from a China-based customer.
The vessel has a length of 81.6 meters and a width of 14.2 meters. It comes featuring two 28R5 ECS/234-2 Voith Schneider Propellers along with two 1.850 kW electric motors. It has a maximum speed level of roughly 15 knots, which is quite ambitions when regarding its size and engine power but the Shanghai Research Institute design team managed to achieve the mark in a close co-op effort with Voith.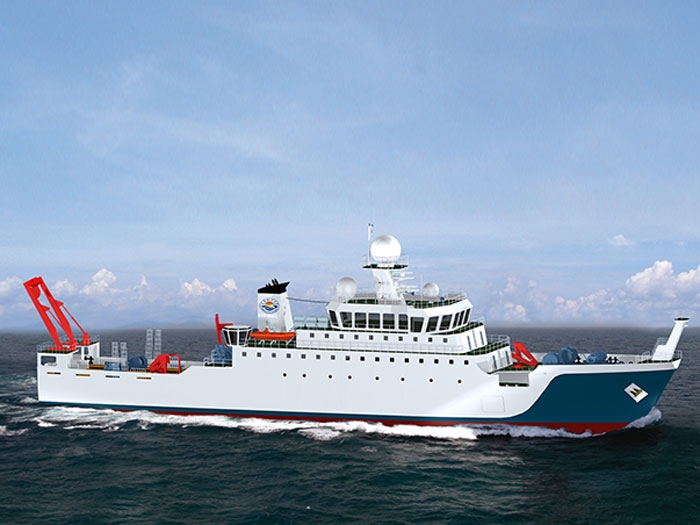 Image: Voith
There were a series of tests, with Voith delivering model propellers to the institute from Germany in order for them to be integrated in a scale model. Voith was an active supporter during the comprehensive trials, thus making a fairly significant contribution to the hull optimization of the vessel.
Having gone through a large number of calculations and various adaptations regarding the vessel lines, the appointed teams managed to achieve the 15-knot maximum speed level. The client was especially convinced by the vessel's excellent maneuverability provided by the VSP propulsion concept and technically advanced roll stabilization (VRS).
Those who were appointed by the university for the project made it abundantly clear from the very beginning that the oceanographers that are going to be aboard the vessel are to not necessarily be experienced seamen. In order to guarantee a certain level of comfort, the vessel's owner insisted on using the intelligent Voith Roll Stabilization that managed to compensate a large part of the vessel roll by employing the VSP.
According to schedule, the research vessel should become operational in the summer of next year. Voith is going to deliver the shaft couplings, the roll stabilization, the two VSPs along with the whole electronic system which includes four control stands in spring of next year.