Last week, Shipbuilder Singapore Technologies Marine launched the Littoral Mission Vessel (LMV) Independence, the first entry in an eight-vessel series that is to serve the purposes of the Republic of Singapore Navy (RSN).
The first ship was launched at ST Marine's Benoi yard by Mrs. Ivy Ng, wife of Dr. Ng Eng Hen, Minister of Defense.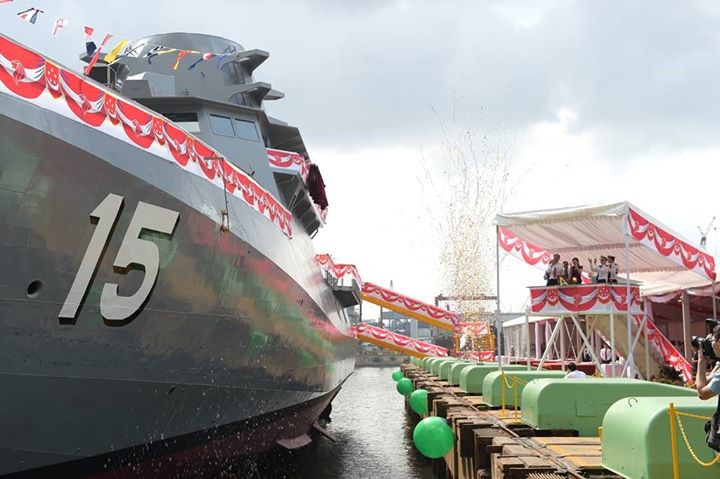 ST marine managed to win the contract regarding the design and subsequent construction of the eight LMVs back in 2013. Expectations are for the ships to be successfully delivered starting from 2016 onwards. They are to serve as replacements for the RSN's current Fearless-class Patrol Vessels which were designed and manufactured by ST Marine back in the 90s.
The LMVs are going to manage operating with a leaner crew size, despite being larger than their predecessors. They place the mission modularity concept into practice and are highly configurable and have the ability of embarking a range of mission modules in order to comply with the specific needs of a given mission.
"The ceremony today marked another major milestone regarding the symbiotic relationship established between ST Marine and the Republic of Singapore Navy. We are nothing but proud to be able to continue the long traditional of constructing the best vessels available for the Republic of Singapore Navy. Launching the first Littoral Mission Vessel that is Independence is only made possible due to the professional and dedicated co-op efforts from the Defense Science and Technology Agency and the Republic of Singapore Navy. We are privileged to be able to work with partners of such high class," commented Ng Sing Chan, ST Marine President.
All of the 8 LMVs are going to be powered via MTU Series 4000 diesel engines. Every LMV is going to feature four of the said engines, which are known for demonstrating low levels of consumption coupled with a long service life, with every unit being able to produce 4,300 kW (57,66 bhp) at 2,100 rpm.
Each LMV will have a length of 80 meters, a 12-meter beam and a 1,200-ton displacement. The top speed level will be fixated at 27 knots with a range of 3,000 nautical miles. The vessels will be able to accommodate up to 30 members of the core crew along with up to 30 seafarers of the mission crew. The weaponry of the vessels will consist of Point Defense System, Typhoon Mk25 SNGS, 2 x 12.7mm Hitrole RWS and a 76 mm OTO Melara.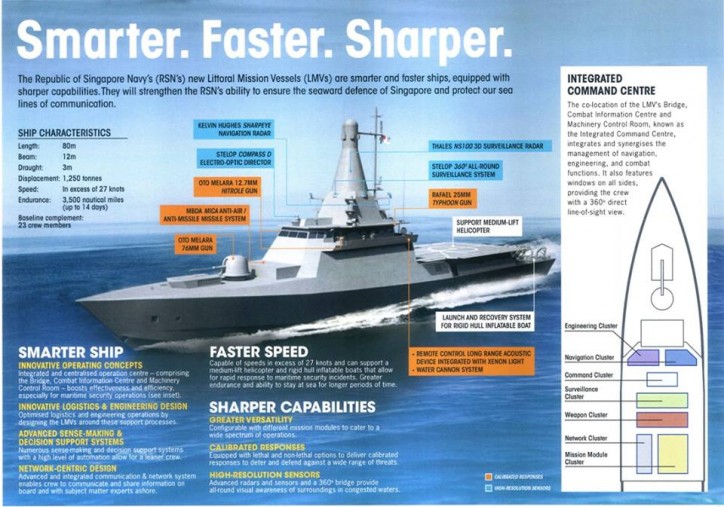 Photos: Ng Eng Hen - Defence Minister/ Facebook