Last month, two female divers from Huntington Ingalls Industries' (NYSE:HII) Undersea Solutions Group (USG) entered the history books as they became the first women ever to crew and drive a dual-mode underwater vehicle.
Andrea Raff, a mechanical engineer, and Chloe Mallet, an ocean engineer, went aboard the USG's Proteus and crewed and operated it. It is a submersible that is able to operate as a manned swimmer delivery vehicle (SDV) as well as an unmanned undersea vehicle (UUV).
Both Raff and Mallet have been certified as rescue divers. The two have gone through extensive training operations with Proteus and provide their assistance for its proper maintenance. In order to be fully prepared to operate the vehicle, they trained in the test tank of the company and supported pre- and post- dives with some of USG's pilots that have more experience in the field.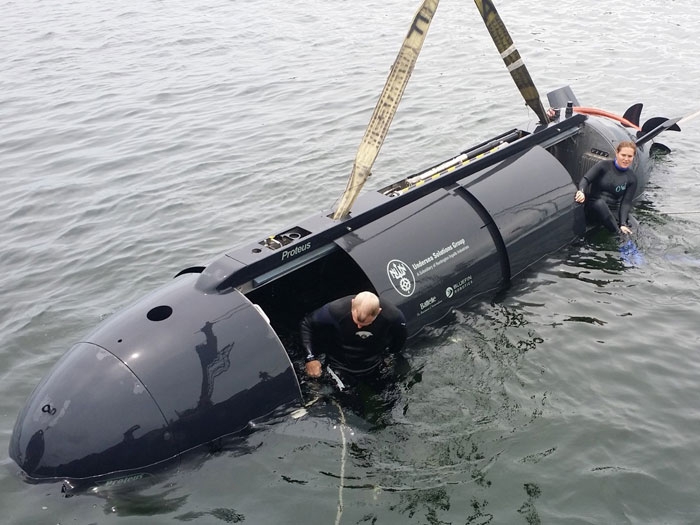 Photo: Joe Colamaria/HII
Raff and Mallet took Proteus out individually and served as its co-pilots in the Saint Andrews Bay of Florida with Ross Lindman, who is USG's Vice President, as the pilot.
"We were quite excited to get this opportunity. We provide our assistance for the various maintenance procedures on the boat and learn a lot of things in the process but this instance marked the first time that we were in the water. We are going to continue to train as co-pilots and then alongside an experienced diver pilot it ourselves," commented Mallet.
Out of the seven-person dive team appointed by USG to the Proteus, Raff and Mallet are the only two women. When the vehicle is used in its manned mode, it gets flooded with water and is able to submerge to a depth level of 150 feet.
"I actually felt ready but it was different than what I thought it'd be. It is pitch black when you go inside and the computer screen along with the buttons is the only thing you can see. We scheduled testing operations with customers so it is going to be quite exciting to observe the manner in which it is going to operate in the future," said Raff.
The Proteus has weight of 8,240 pounds and its design enables it to operate as a manned SDV or as an UUV. Teams can use it to integrate and test payloads, for transportation purposes and equipment installation on the sea floor, undersea infrastructure inspections and for transporting a combat swimmers team and various cargoes.
USG is focused on developing and constructing specialized manned and unmanned undersea vehicles that are to serve the purposes of military customers all over the world. The Columbia Group's Engineering Solutions Division, USG has manufactured or converted specialized vehicles for a large array of purposes such as providing support to submersibles and submarines, mine warfare system testing, special warfare, potential torpedo countermeasures and many more. Originally established back in 1972, the division reports to the Newport News Shipbuilding division which is part of HHI and operates in Florida's Panama City Beach.