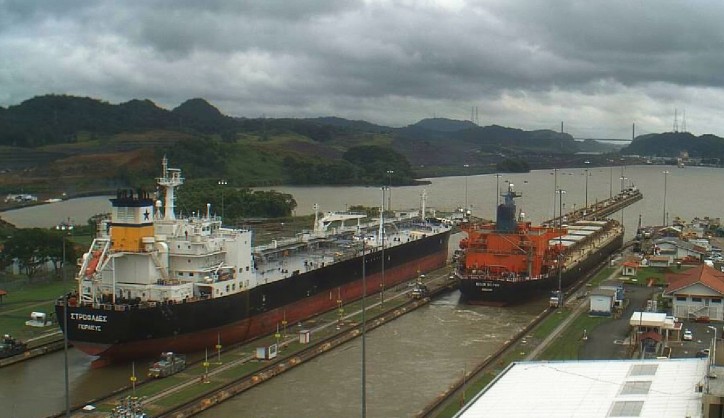 Far East to U.S. East Coast all-water services weekly capacity has went up by 20% year-on-year, and this month has reached a record high 143,000 TEU, according to the Alphaliner market analyst.
Twenty-five strings in total are serving the trade currently, which is four more than last year. Six strings were initiated in the time period of March-May this year, out of which four are all new services.
Additionally, two seasonal summer strings were re-started at the winter slack season's end.
The Panama route registers 51% of the total all-water trade capacity, thus managing to retake the traditional leading position of the Panama Canal on this particular trade over the Suez Canal.
The Panama share had been indicating steady drops, going down from 74% at 2010's beginning, to an all-time low in February of this year, when it accounted for 44%. All this was before the new strings' launching, beginning from March, which greatly contributed for shifting back the balance in the Panama Canal's favor.
Actually, 5 out of the 6 strings that were initiated or re-started this year are using the Panama route. The total sixteen container services that are currently routed through Panama combine for a weekly capacity in the amount of 73,000 TEU, with a 4,570 TEU capacity on average, in comparison to nine strings that are routed through Suez with a 70,000 TEU total capacity and a 7,780 TEU capacity on average.
Alphaliner commented that contrastingly to the rise in the U.S. East Coast all-water capacity, due primarily to the transpacific cargo diversion from the U.S.' Pacific Ports to the Gulf and Atlantic ports, the weekly capacity on Far East to U.S. West Coast services has been demonstrating stagnant levels year-on-year.
The Panama Canal has managed to take one step further towards completing the Expansion Program, as it has began filling and trialing the canal's brand new locks on the Pacific as well as on the Atlantic side.
The Panama Canal's overall Expansion Program is at 89.8% of its completion (as of the end of May), as reported by the Panama Canal Authority (ACP).
Once completed, the two brand new lock complexes are going to be equipped with 16 gates in total, eight in the Atlantic and eight in the Pacific.
The expansion project, which is worth USD 5.2 billion, is scheduled for completion in December of this year.