One of the biggest shipbuilding companies, Hyundai, is in the process of designing a smart connected ship that comes along with a network of sensors and analytics software in order to enhance port logistics, maintenance procedures and reduce running expenditures.
The analytics and sensors, which are to be provided by partner-company Accenture, are going to offer a swift combination of real-time location, ocean data, weather and historical fleet info. The company's aim is to visualize the said information in order for both captains and builders to receive alerts and warnings and to be able to carry out a more proper maintenance on their vessels and have a more efficient schedule.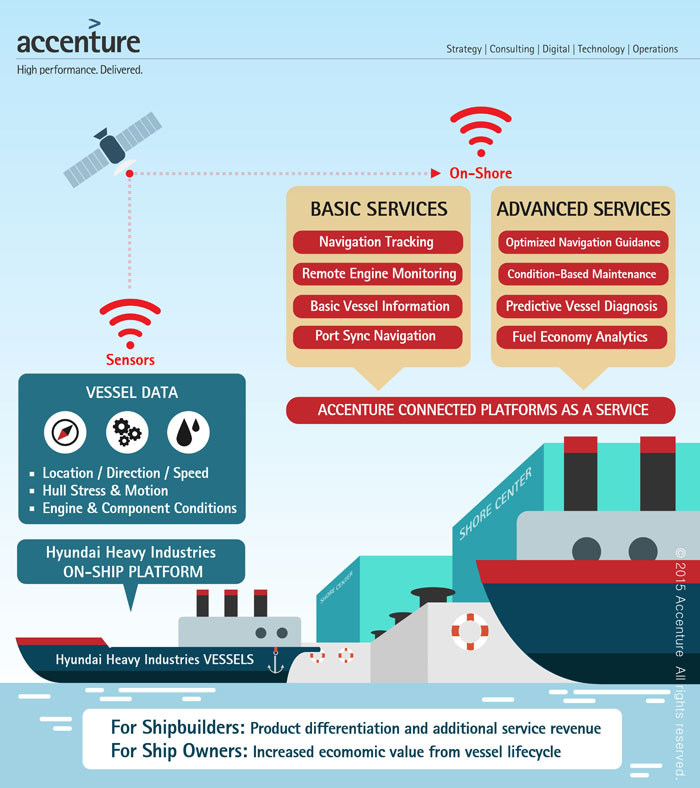 The vessel employs Hyundai Heavy Industries' (HHI) on-ship platform along with the Accenture Connected Platforms as a Service featuring device management services and administrative and user management services. The company commented that this would guarantee that all connected devices can be maintained and monitored on a remote basis. For the purpose of doing that, the cloud platform, provided by Accenture is going to be employed in the role of an infrastructure hosting.
Additionally to reducing operating costs of vessels, which is motivation enough for a large number of ship owners, real-time collection and exchange between ships, ports, cargo and land logistics might lead to all new streams of revenue.
The co-op comes along the lines of HHI's plans of expanding its current business, going from manufacturing to services, similarly to Rolls Royce. At the moment, the company holds roughly a 15% share of the market, producing a wide range of vessels – from drill ships all the way to submarines.
Accenture has plans of developing five basic shore services: ship voyage information, ship general information, ship equipment alarm monitoring, ship equipment status monitoring and connectivity health check.
"Various business ventures could possibly gain quite the competitive advantage if they embrace the connectivity wave underpinning the Internet of Things and opt in to integrate digital services into their product ranges in order to not fall behind the next innovation wave," commented Eric Schaeffer, Accenture's Senior Managing Director.

"Our co-op with HHI utilizes the digital technology we have and our deep experience of the industry in order to provide for a typical products company to adapt its current business model and take advantage of digital technologies such as analytics. The willingness displayed by HHI for creating value for its clients via the adoption of elements of the Internet of Things serves as a great step going forward along its digital transformation journey."

"We have hopes to be able to establish ourselves as leaders in the sectors of ship operations, port logistics and shipping by collaborating with Accenture," commented Moon-kyoon Yoon, HHI's Shipbuilding Division CEO.
In regard to vessels that are being newly constructed to order, services are going to be available at the time of the ship's delivery. For current vessels, whose owners show interest, we are going to try and retrofit these services, Accenture said.