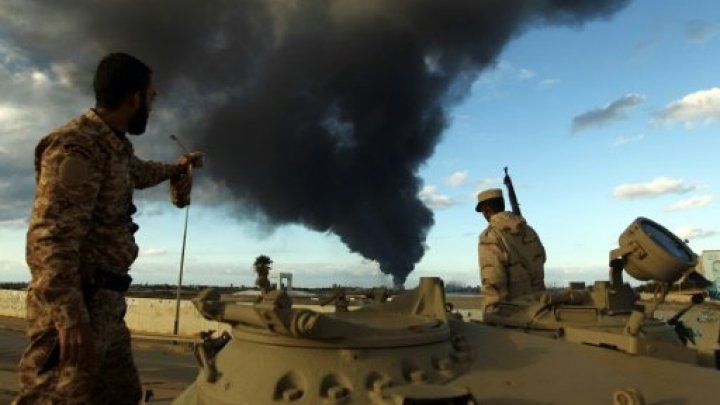 On Sunday, a vessel was bombed and subsequently sunk in an air strike carried out by Libyan war aircrafts in the vicinity of the Mareesa town, as reported by an air force spokesperson, allied to the internationally recognized government of the country, Nasser al-Hassi.
"The ship was sunk due to it carrying fighters, weaponry and ammunition in order to provide support to terrorists in the eastern region," commented al-Hassi.
According to reports, another ship was also targeted by the air strike off Benghazi, which is also said to have been transporting weapons.
Up till now, there has been no detailed information regarding the types or the origin of the two ships involved in the air strikes.
There were no eyewitness reports or independent confirmation regarding the strike off Mareesa, as reported by Reuters. The Dubai-based Al-Arabiya television network, however, reported the attack.
This instance marks the 3rd time that Libyan war planes have bombed a certain ship under the same claims. The previous vessels in question, however, were later found out be just oil tankers.
Back in May of this year, Libya's government airplanes bombed two oil tanker vessels resulting in the death of two members of the crew.
A ship officer lost his life and several other crew members sustained injuries following the air attack on a Turkish general cargo vessel near Libya's Tobruk port on May 10th.
Merely two weeks after that, another tanker vessel was bombed while being anchored at a terminal close to the city of Sirte, which is under the control of Islamist leaders. The vessel was to offload fuel cargo. One crew member was killed and another one was injured while the Anwaar Afriqya tanker burst into heavy flames.
Libya, which is known for being among the world's top oil countries, has been torn apart between two different governments following the overthrow of dictator Muammar Gaddafi, which took place back in 2011. The country has been troubled by a number of confrontations between the different armed groups on a constant basis ever since.