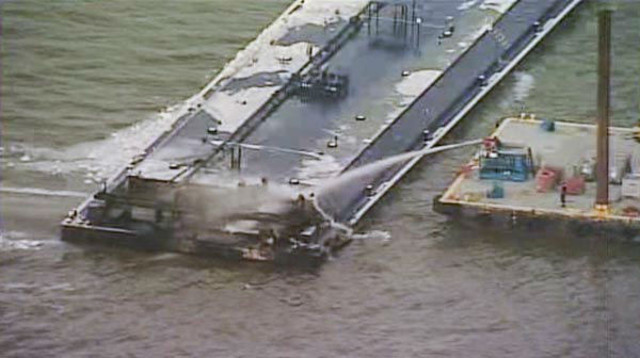 Two barges have collided in the Houston Ship Channel. One of those barges was carrying one million gallons of petroleum naphtha, which was spilled and soon after has caught fire, reported US Coast Guard.
After the incident which occurred on Monday (July 20) at around 1:20 am local time (06:20 GMT), the Coast Guard closed a section of the Houston Ship Channel from mile marker 348 near Bolivar Peninsula.
The channel is part of the Port of Houston, one of the busiest seaports in the United States.
According to the Coast Guard spokesman the incident is not affecting ship channel traffic.
As stated in a report on the website of Houston's Channel 13, the collision between both barges happened when they were being hauled by tug boats and one of the tugs lost power.
After the collision, one of the barges was ruptured and caught fire after being ruptured. Soon afterwards it had been extinguished by a Houston Fire Department fire boat, which was dispatched to the scene.
There are no reports for injured people. The US Coast Guard is still investigating if the spill had any environmental impact.
In another incident in June when a cargo tank on a barge was damaged, a section of the channel was briefly closed following the release of up to 23,000 gallons of naphtha.
There were also two separate collisions on the waterway within the space of one week in March 2015, with brief shutdowns of the channel.