Eleven Filipino fishermen have been rescued by a US navy ship after monsoon rains, which caused their boat to capsize in the South China Sea, the American embassy and provincial officials in Philippines reported.
According to US embassy statement, the Impeccable-class ocean surveillance ship USNS Impeccable was sailing to the northern Philippine port of Subic Bay when its crew saw the partially submerged boat in the water.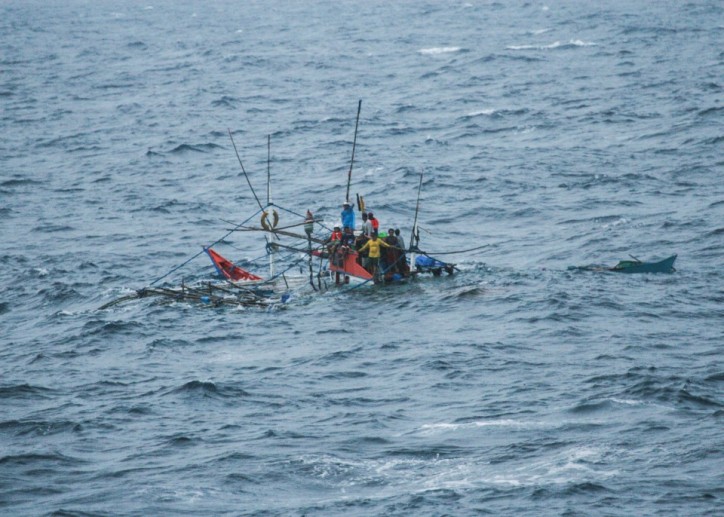 Image: manila.usembassy
On July 14, the fishermen had sailed from the northern coastal town of Infanta before bad weather struck on Sunday morning, leading their boat to capesize.
Few days later, on July 19, the US Navy personnel while patrolling in the region, spotted a partially submerged ship and noted debris in the water.
Juvin Solis, representative of the provincial disaster office said:
"They were drifting to the southwest when the US vessel arrived and rescued them a few hours later"
The Master of USNS Impeccable gave an order the ship's rigid hull inflatable boat (RHIB) to be deployed immediately in order to assist the fishermen in distress.
"This was a team effort with civilian mariners, SECDET [security detachment], MILDET [military detachment] and Lockheed Martin working together to achieve an efficient rescue of all 11 fishermen," said Robert Wiechert, Impeccable's Master.
The rigid hull inflatable boat made three trips to the distressed vessel and recovered all 11 fishermen.
When the seamen were brought aboard the US Navy ship, they were examined by medical personnel and given food and water. There was no report for serious injuries or illnesses among the rescued fishermen.
All 11 mariners were turned over to the Philippine Coast Guard shortly after the USNS Impeccable arrived in port in Subic Bay.
Days of monsoon rains have left five people dead and forced about 4,000 people to flee their homes due to flooding and landslides in the northern Philippines, civil defence officers said.