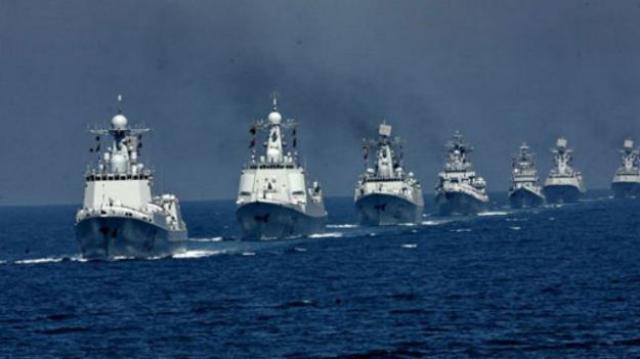 China has issued confirmation that it will be sending for the very first time People's Liberation Army Navy (PLAN) ships and representatives to India's International Fleet Review. India managed to extend an invitation to the PLAN back in May, which was later on announced following the Indian naval commanders conference. India's Easter Naval Command is going to host the fleet review at Visakhapatnam in February of next year. According to reports, although there has been confirmation regarding the participation of the PLAN, there has been no information yet as to which ships and personnel are to attend.
India's Eastern Naval Command is going to host for the first time the country's International Fleet Review in 2016 and it is going to feature more than 60 sea-faring nations and more than 100 vessels (invitations have been sent to over 90 countries). According to reports, India's President, Pranab Mukherjee, and the country's Prime Minister, Narendra Modi, among other senior Indian officials are going to be present at the review and meet with senior naval officers, such as the naval staff chiefs of the participating countries. The fleet review is going to also serve the role of a kind of send-off for the country's aging INS Viraat aircraft carrier, which has been scheduled to be decommissioned following its 57-year service, first in the U.K.'s Royal Navy and then in India's Navy forces.
China's decision to participate in the fleet review will serve as another reinsurance of the military co-op commitments that were undertaken by India's Prime Minister Narendra Modi and China's President Xi Jinping and Premier Li Kequiang back in May of this year, when Modi visited China. In their statement, it was noted by the leaders that the two sides are going to exchange visits of naval vessels and conduct passing exercises as well as search and rescue drills. Neglecting India's mistrust of China's naval operations regarding the Indian Ocean Region (IOR), it seems that the two countries are quite interested in their potential military co-op.
The participation of the PLAN in the fleet review comes amidst growing Indian Navy concerns regarding China's naval maneuvers in the IOR, which include several submarine operations. As it was confirmed back in 2015 by the U.S. Department of Defense in its report regarding the military forces of China, Chinese Song- and Shang- class submarine vessels are operating in the IOR. Back in November of 2014, a Chinese warship and submarine were spotted at a Colombo dock at Shri Lanka, further confirming India's suspicions that the PLAN was employing IOR port facilities, funded by China, for operational use.
The participation of China in India's International Fleet Review in 2016 is not likely to do much regarding easing India's concerns about China's naval activities in the IOR in the short term, but provided that naval contracts established between the two countries remain limited, it will not worsen matters.