The new Suez Canal project will start its trial operation process on Saturday, July 25. Tests will take place 11 days before the official Channel's inauguration on 6 August.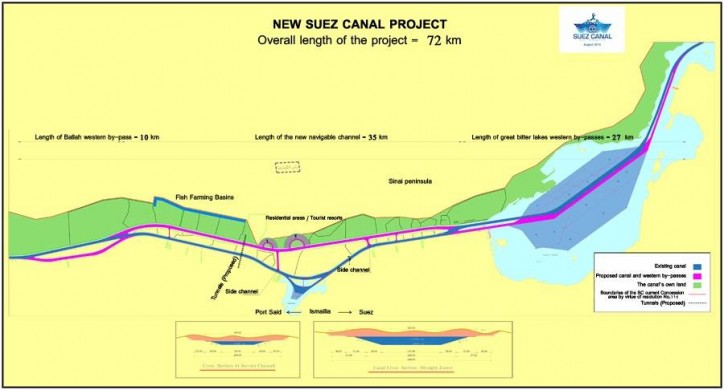 Image: suezcanal.gov.eg
Wagdy Zaki, the Chief Executive Officer of the New Suez Canal's dredging works has informed that all preparations have been made to start the trial operation of the new waterway.
The head of navigational management department at the Suez Canal Authority, Mohamed Sakrt said for a local media that different size ships will participate in the trial.
He also added that the new 72km canal will have ten guidance stations.

According to the Suez Canal Authority head officials the project up to the moment is 97.2 percent completed. Workers have finished dredging 250 million square meters of earth for the new route, as well as digging 70 million square meters for the expansion of the Ballah Bypass located on the western edge of the canal.
In a statement last month, Mohab Mamesh, the head of the Suez Canal Authority said that the government will fund the grand opening ceremony on 6 August through donations from the public and contributions from participating dredging companies to avoid any burdens on the state budget.
The total length of the project is 72 km, the channel's width is now 312 metres, compared to a previous 61 metres.
The expansion will increase the daily average of transiting vessels to 97 ships, up from 49 ships at present. It will also allow to be achieved a direct continuous transit for 45 ships in both directions.