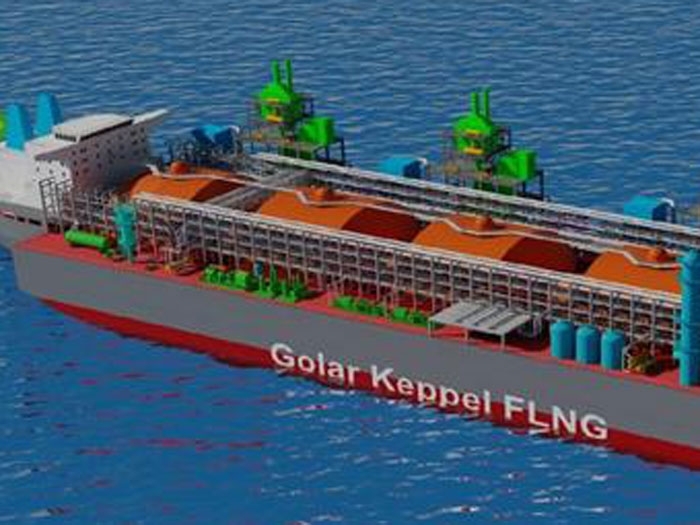 The Singapore-based Keppel Shipyard has managed to win a 3rd contract from Golar LNG in the amount of USD 684 million for converting an LNG carrier vessel into a floating LNG (FLNG) one.
The contract at hand, which revolves around the Gandria LNG carrier's conversion, serves as practically the 2nd of two options, following the exercising of the 1st option, which revolved around the conversion of the Gimi LNG carrier that took place in December of last year. The two options are along the lines of the FLNG conversion contract regarding the Hilli vessel, which was scheduled back in July of 2014.
All of the three LNG carriers are going to be converted into FLNG vessels in accordance to the Golar Floating Liquefaction (GoFLNG) design.
"GoFLNG facilities are going to contribute for a major reduction in costs and time required for monetizing and delivering offshore gas to the market. Being currently a year underway, the conversion project of the Hilli vessel is going according to schedule. This 3rd GoFLNG contract serves as another validation of our delivery timeframes and prices, and further demonstrates the commercial as well as technical competitiveness our solution provides," commented Michael Chia, managing director of Keppel Offshore & Marine (marine and technology), on July 22nd.
Keppel Shipyard recently managed to set up an all new design and technology arm, Gas Technology Development (GTD), in order to carry out researches for potential solutions regarding various LNG markets.
"Given our enhanced capabilities and far more innovative solution, we have nothing else to do but look forward to providing our support to our valued clients such as Golar in efforts of commercializing mid-scale LNG offshore sources in fairly benign met-ocean conditions in a more time- and cost-efficient way," he further added.
The Gandria's conversion is going to be fully initiated after Keppel Shipyard's been able to receive a notice for proceeding, with expectations being that it is going to be issued at some point next year. The finished FLNG vessel is to be successfully delivered roughly 31 months following the receiving of the said notice.