After the successful launching of India's first indigenously built aircraft carrier INS Vikrant in June 2015, the Indian Navy has sent requests for proposals to four potential foreign contractors to assist it in constructing of its second indigenous aircraft carrier.
In a letter of request to shipbuilders from different parts of the world, the Indian Navy has outlined some of the ship's specifications.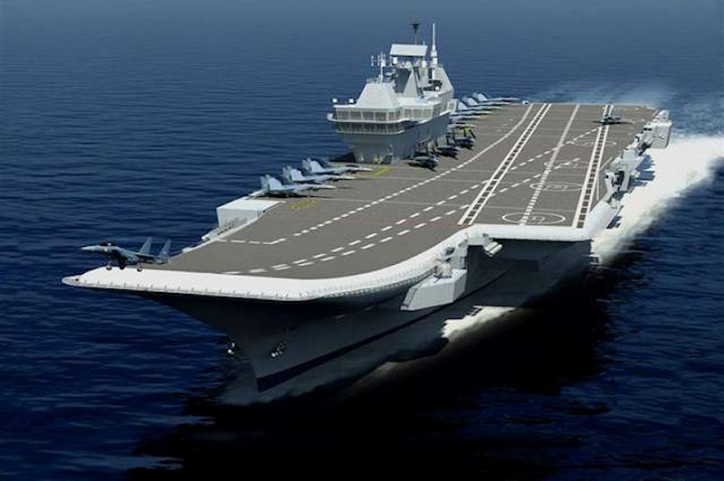 Image: Newindiaexpress
The companies that received the letter of request for the construction of the second aircraft carrier are British BAE Systems, Russia's Rosoboronexport state arms exporter, US-based Lockheed Martin and French shipbuilder DCNS.
India's Navy has requested a 300-meter long aircraft carrier that displaces 65,000 tons. The Navy also requires the ship to be able to travel at 30 knots and carry 30-35 fixed wing combat aircraft and about 20 rotary wing aircraft.
If compared with the existing aircraft carriers in India, which use ski-jump launch systems, the new aircraft carrier will have a catapult launched but arrested landing system (CATOBAR). It might also use an advanced electromagnetic system to launch fixed-wing aircraft.
The Indian Navy is expecting technical and costing proposals from the potential contractors for the building of Indigenous Aircraft Carrier-2 (IAC-2). Their responses to the letter of request are expected by July 22nd. The warship is likely to be named INS Vishal (Grand).
Russia's Rosoboronexport and Lockheed Martin are seen as the frontrunners to win the contract.