China-based AFAI Southern Shipyard Guangzhou Panyu and Gorinchem, Netherlands –based Coco Yachts have managed to secure a contract with Cosco Xiamen.
It revolves around designing and constructing a Coast Cruiser 322 aluminum fast ferry that is going to serve as a replacement of the current fast ferry of the company on the passenger service it offers between Kinmen, Taiwan and Xiamen, China. According to schedule, the vessel should be delivered in Q1 of 2016.
The Coastal Cruiser 322 is going to feature a passenger saloon equipped with economy seats situated on the main deck and luxurious business class/VIP accommodations on the upper deck. The vessel's main deck aft will provide the necessary space for cargo, bicycles and luggage.
Expectations are for noise levels to be much lower than current ones as this is one of the main focuses of the company with the vessel.
The Coast Cruiser 322 is going to have two MTU main engines, with each one of them driving a single Rolls-Royce S71 water jet through a ZF gearbox.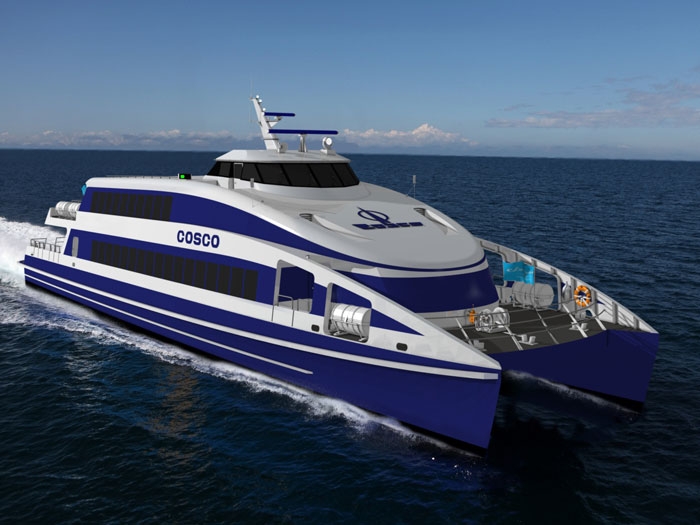 Image: CoCoYachts
With the use of FineMarine CFD software the hull lines are completely optimized and are to contribute for roughly 10% of fuel savings in comparison to fast ferries with the same capacity level.
The high speed aluminum passenger catamaran is going to be designed and subsequently constructed according to the rules and regulations of the China Classification Society regarding High Speed Craft. The vessel is to be manufactured in Guangzhou.