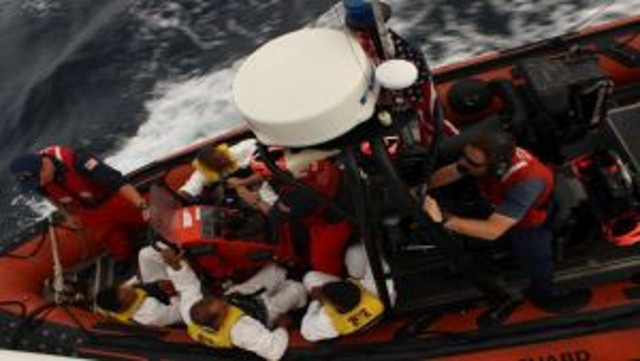 A cocaine shipment worth US 7.5 million has been offloaded and transferred by the crew of the Coast Guard Cutter Dauntless to federal law enforcement special agents. The operation took place on Wednesday, July 22 at San Juan's Coast Guard Sector.
On July 17 in the Caribbean Sea, the US Cutter Dauntless seized the 275-pound cocaine shipment and detained six suspected drug traffickers, following the interdiction of a go-fast vessel. Two of the suspect are reported to be Colombian nationals and four from Venezuela.
Initially the suspicious vessel was detected in international waters about 80 nautical miles north of the Netherlands Antilles Island of Aruba, where the USCG ship was patrolling, along with the assistance of a Netherlands Coast Guard maritime aircraft.
In the course of the operation, both patrolling crews observed people aboard the suspicious go-fast vessel jettisoning packages overboard.
Five of the suspicious packages that were jettisoned overboard from the go-fast vessel have been successfully recovered by the Dauntless crew. Later conducted tests have shown that the packages were positive for cocaine.
The six suspected smugglers, a representative sample of cocaine, and the go-fast were transferred by the Dauntless to the Venezuelan Navy, while the rest of the abandoned drugs were transported to San Juan, Puerto Rico.
Cmdr. Fritz Kuebler, commanding officer of the Coast Guard Cutter Dauntless commented:
"Once again, the crew of the Dauntless, along with our Dutch partners, proved to be a worthy opponent. We take great satisfaction in knowing that our efforts are helping to secure not only American streets but also the streets of our Caribbean neighbors."
The 210-foot Dauntless is a Medium Endurance Cutter, homeported in Galveston, Texas.
The USCG patrol ship and crew execute maritime law enforcement, homeland security and search and rescue missions in support of Coast Guard operations throughout the Western Hemisphere.