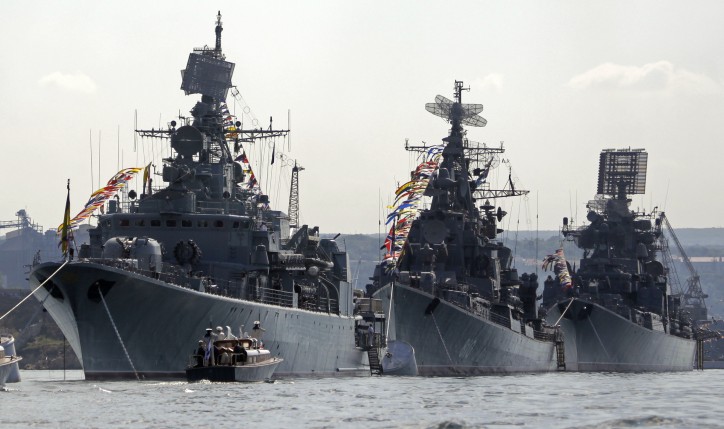 Russia's Navy has managed to maintain a permanent detachment of roughly 10 warship vessels in the Mediterranean Sea since the year 2012, as commented by a top Russian Black Sea Fleet official on Thursday. The country's expanded military activity at home as well as abroad has contributed for continuous trends of tension with Western leaders during the course of the last several months.
The three primary naval fleets of Russia have each appointed vessels to the standing Mediterranean force since its initial deployment. The Black Sea fleet, however, is in command of the said ships, as stated by Russian Admiral Alexander Vitko. It is unknown which types of military ships are featured in the permanent presence operation.
"A rough average of 10 ships along with auxiliary vessels from the Baltic, Black Sea and Northern fleets has been permanently deployed in the Mediterranean Sea since 2012's end. There are, however, under the command of the Black Sea Fleet and the group's task performance lies primarily on the warship and auxiliary vessels of this fleet," added Vitko, commander of the Russian Black Sea Fleet.
The confirmation of the Russian permanent Mediterranean naval force served as the latest example regarding Moscow's dedicated efforts of expanding its military presence around the globe. Kremlin reported plans of spending trillions of rubles for the upgrading of the country's armed forces by 2020's end. Recently, the country has opted in for expanding its long-range bomber patrols in order for them to reach as far as the Mexican Gulf and carried out training exercises in remote regions such as the Arctic.
United States and NATO officials have voiced their growing concerns regarding the Russian military activity, especially that in Eastern Europe. Western leaders imposed stringent economic sanctions against Russia due to its apparent involvement in the conflict of Eastern Ukraine. The said penalties are to remain effective till U.S. and E.U. diplomats are satisfied with Russia's efforts towards achieving a state of peace.
Early on this year, the Russian Black Sea Fleet carried out several joint exercises alongside China's Navy forces in the Aegean Sea, to which the Mediterranean Sea has a direct connection. Russia appointed a missile carrier to take part in the drills.