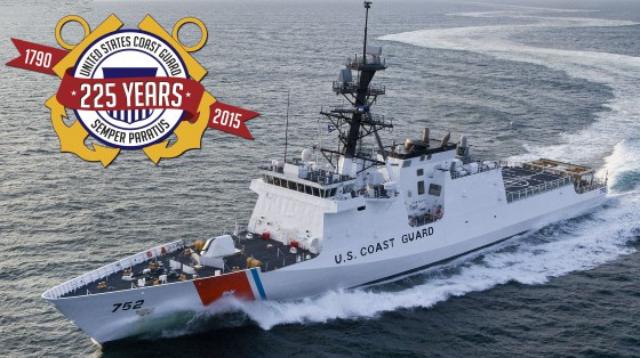 Yesterday the United States Coast Guard turned 225-years old.
On Aug 4, 1790 the President George Washington signed the Tariff Act which authorized the building of 10 Revenue Cutters - single-masted sailing ships, estimated to cost only $1,000 each - for smuggling prevention and enforcement of federal tariff and trade laws.
In 1915 the USCG, as it looks nowadays, was established with the merger of the "Revenue Cutter Service" and the U.S. Life-Saving Service.
Coast Guard Commandant Adm. Paul Zukunft said:
"The Coast Guard is more relevant today than at any time in our 225-year history. Transnational criminal organizations use drug profits to destabilize governments in our hemisphere. Our nation's resurgence in American energy production has increased the flow of maritime commerce on our waterways. There is increased human activity in the Arctic and cyber threats endanger our digital systems. We are evolving to meet these challenges and invest in a 21st century Coast Guard that will continue our service to nation that is 225 years strong."
Hear what members of the Coast Guard say about why they serve in the video below.