Estonia-based operator Tallink's brand new generation LNG fueled fast ferry that is to serve the Tallinn, Estonia-Helsinki, Finland route was put into production yesterday at Finland's Meyer Turku yard.
The brand new ferry is going to have a length of roughly 212 meters and a 49,000 gross tonnage. The vessel is going to provide its services for the purposes of the Helsinki-Tallinn route and she will be able to accommodate a total of 2,800 people. The ship's service speed level is marked at 27 knots.
According to schedule, the ferry is to be delivered in the early portion of 2017. The project provides roughly 2,000 person-years of employment regarding the yard itself and its network of suppliers.
The vessel is going to be equipped with LNG-powered dual-fuel engines, courtesy of Wartsila, that will make it possible for her to be in full compliance with the Baltic Sea Sulfur Emissions Control Area (SECA)'s emission level requirements.
When the ferry is to operate in gas mode, the nitrogen oxide (NOx) emissions from the Wartsila DF engines are at least 85% below the levels currently specified in the regulations of the IMO, while the sulfur oxide (Sox) and particle emissions sit at almost 0%. CO2 emission levels are roughly 25% lower when compared to the levels of conventional marine engines that run on diesel fuel.
The vessel's highly innovative hull form contributes for minimizing the hydrodynamic flow resistance, which in combination with several other cutting-edge solutions is going to greatly improve energy efficiency. When designing the new generation fast ferry, the company took into account the aspects of an efficient and fast turnaround in ports.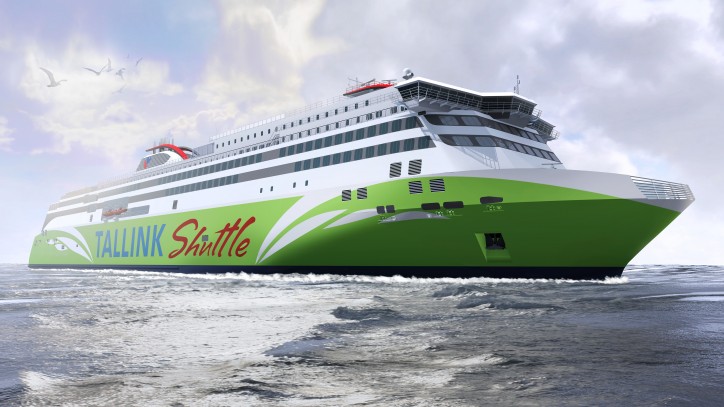 Image: Tallink
Janek Stalmeister, AS Tallink Group CEO, commented that the all new shuttle vessel is going to lay down the foundations for the issuing of the next era of fast ferries that are to accommodate the Tallinn-Helsinki route.
"The vessel's environmental performance along with its many other cutting-edge solutions regarding the technical and service areas is going to serve as benchmarks for the market as well as for our shuttle service," commented Mr. Stalmeister.

"The new Tallink fast ferry serves as our next step in LNG ferries development – all tailored in accordance with our customer's specific needs. When it comes to the Turku shipyard, this current order raises our 2016 production volume levels by 30% above the ones of 2015," adds Jan Meyer, Meyer Turku Oy CEO.