The dual fuel engine retrofit conversion of the 472-foot tanker, Fure West, owned by Furetank Rederi A/B, has been almost completed by the German Caterpillar Marine.
After the conversion, which is expected to be completed by the end of 2015, the tanker's engines will be able to operate on both, diesel oil and liquefied natural gas.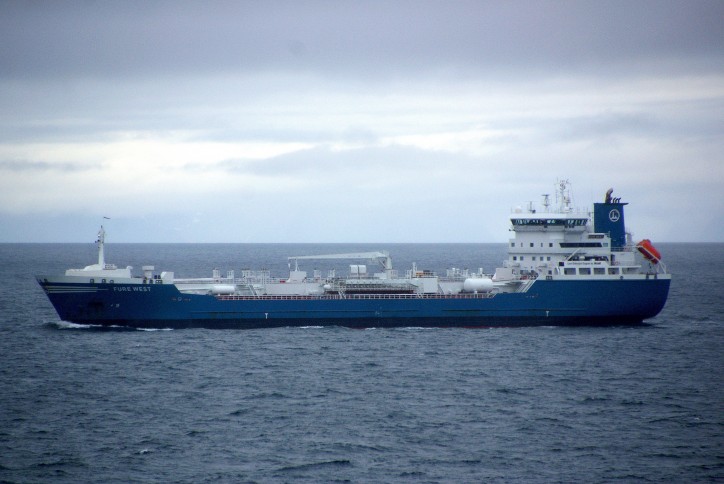 Image: W. van der Moolen
The tanker Fure West will continue its service in the Northern European Emission Control Area (ECA), chartered by the Danish Furetank Chartering.
Tanker's Mak M 43 C diesel engine will be retrofitted in hull to the 7 cylinder M 46 dual fuel platform, giving 900 kW power from each one of the cylinders.
The whole gas system for the tanker is supplied by the Hamburg-based Caterpillar. It includes bunker stations, two LNG tanks measuring 4.15 meters by 24 meters and a vaporizer.
The Fure West engine conversion is the second Caterpillar project regarding MaK engine dual fuel retrofit. The project was supported by the European Union and developed with the Zero Vision Tool (ZVT).
The first dual fuel engine retrofit conversion was successfully achieved by Caterpillar last year on the LNG carrier Coral Anthelia of the Netherlands Anthony Veder Gas Carriers B.V.

Caterpillar Marine senior engineer, Finn Vogler commented:
"We're pleased to continue to build upon our successful track record of dual fuel conversions in the commercial marine industry and offer an increased scope of supply to our customers. We have a market-ready technology available that our commercial marine customers can be completely confident in and after our success onboard the Coral Anthelia, we have seen the demand for MaK dual fuel solutions increase substantially."