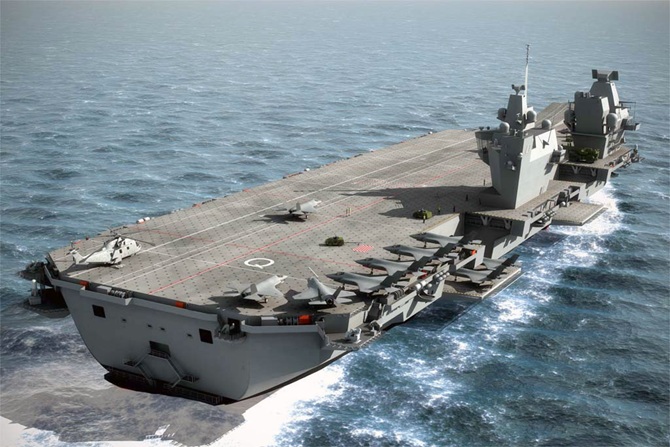 Rolls-Royce has managed to sign a contract for supplying the United Kingdom Royal Navy with the MT30 gas turbine packages for the purposes of its first 3 Type 26 Global Combat Ships.
The Type 26 Global Combat Ship (Type 26 frigate) is a warship of the 21st Century that is going to be replacing the Type 23 frigate in its role of prime workhorse of the Fleet, managing to aid the Royal Navy in the three major aspects of maritime security, warfighting and international engagement.
Rolls-Royce is to now initiate the construction of the said gas turbines along with that of the surrounding steel packages for the vessels, which are to be produced by the BAE Systems prime contractor.
"We are nothing but delighted to be able to undergo the next step and begin the production of the first MT30s that are to serve the purposes of the Type 26 program, after going through the Design Development Agreement (DDA) phase where we managed to successfully incorporate the specific requirements of the Type 26 into the compact package design we provide," commented Rolls-Royce Naval President, Don Roussinos.

"The choice of using the world's most powerful operating marine gas turbine that is the MT30, for the Type 26 further establishes and solidifies our long history regarding the development and supply of gas turbines for the purposes of the U.K.'s Navy Fleet. We are proud of the fact that our MT30 is going to power the Type 26 and we look forward to our collaborative work with both BAE Systems and the Royal Navy on this amazing project," he further added.
Rolls-Royce and BAE Systems have also signed to DDAS for stabilizing fins, steering gear and mission bay handling equipment.
The MT30 derives from Rolls-Royce's Trent aero engine technology and further develops a solution that has more than 45 million hours of ultra-high reliability and operating experience. Given its capability of producing 36-40 megawatts, it serves as the most powerful operating marine gas turbine in the world and accounts for also having the highest level of power density which is a major factor when regarding naval propulsion where managing to deliver a high power output in compact spaces is integral.
Initially, the MT30 will be constructed in individual modules on the same build line in a similar way like the Rolls-Royce Trent aerospace engines in Derby. Then it is going to be assembled together in the Bristol-based facility of the company, where the engines are to go through a thorough trial program before delivering the first one to the Type 26 program in the latter part of next year.
Early on this year, Rolls-Royce reported installing the first ever MT30 in the Royal Navy's 2nd new HMS Prince of Wales Aircraft Carrier. The MT30 also services the U.S. Navy and was recently selected by the Republic Of Korea Navy for its latest frigate program.