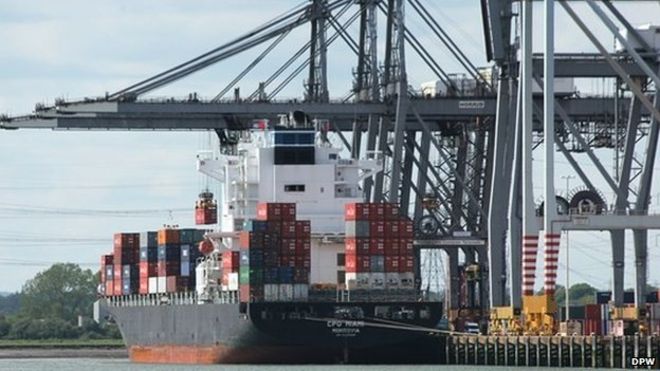 Docks in the UK port of Southampton have been shut down after a number of illegal immigrants tried to enter the port.
On August 12th, the operations in one of Britain's busiest shipping ports were suspended for several hours after customs officials spotted three intruders on the site in the early morning hours.
After their ship docked at the port, the migrants tried to run away. Port officials ordered a security lockdown of the port area and the migrants were caught and arrested by police, who will now consider whether to deport them.
The port security operation caused long delays for lorry drivers, who had to wait for over two hours in a line, as the container terminal was closed during the night and in the next morning.
Terminal operator, DP World, has confirmed that three migrants were found on the site and detained by local police.
"They were found within the container terminal after being spotted by our staff. The container terminal was closed while a thorough sweep was carried out", DP World spokesman said.

DP World stated in a bulletin to the Southampton port authority : "Please be advised that operations were suspended at the Terminal from 3:45am due to persons unknown being found in our stacking area. As a matter of safety and security operations were suspended so we could carry out a detailed search of our site. Please be aware that the MT Park resumed operations at 6:15am and landside operations will resume at 7am and shipside at 7.30am."
It was confirmed by the port authorities that the terminal was fully operational by 10 am local time.
The migrants incident comes in a time of high tension over the ongoing chaos at the French port of Calais, where migrants have gathered to try and get to Britain via the Channel Tunnel. Hoping to flee from the war in Syria and the atrocities of ISIS, the refugees are desperately trying to enter UK by trains and lorries to claim asylum.