The Netherlands-based international container terminal operating company, APM Terminals, has signed a joint venture contract with the Colombian port and terminal operating company, Compañía de Puertos Asociados S.A. for cooperatively managing and operating of the present multipurpose Compas S.A.'s Cartagena Terminal.
Part of the modernization will be upgrading and expanding of the current Cartagena terminal, as well as the installation of new state-of-the-art terminal equipment. Both companies will invest more than USD $ 200 million for the new terminal.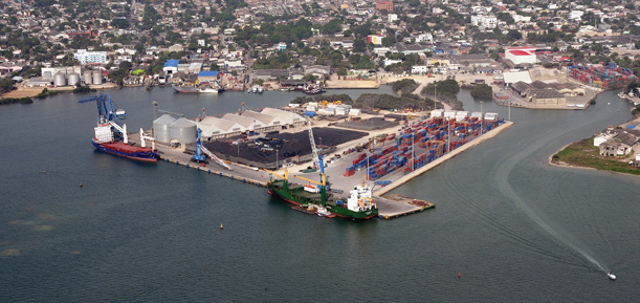 Image: Compas S.A.
After the completion of the project, the new terminal is expected to be capable to handle the larger vessels passing along the widened Panama Canal, also to increase three times its annual containers throughput capacity.
In the new signed joint venture agreement for the operating of the new Cartagena port facility, APM Terminals will hold 51 % majority share and Compas S.A will remain as concession holder of the terminal.
Kim Fejfer, APM Terminals CEO commented:
"Colombia represents one of the most promising investment opportunities in the region and we are pleased to participate in the country's ongoing economic growth and development. Cartagena has enormous significance in South America ports and this JV underlines APM Terminals growth and investment plans."
The Compas S.A' s terminal in Cartagena has a 250,000 TEUs - throughput capacity per year and 1.5 million tons of general cargo. This facility is the sixth in Latin America, operating within the APM Terminals Global Terminal Network, which includes port service operations in the ports of Callao (Peru), Buenos Aires (Argentina), and Santos, Pecem and Itajai in Brazil.
According to company's records, APM Terminals in Latin America have handled a total of 2.1 millions TEUs of container throughput in 2014.
Alberto Jimenez Rojas, the Compas S.A.'s President said:
"APM Terminals has an impressive heritage in the port business and they continue to transform operations. We are excited to partner up with them and expand our business here in Colombia."
Beside the fact that Compas S.A. is a major terminal operator in Colombia, the Company also has terminal interests in Houston, Texas (USA) and Panama.
Port of Cartagena is located at the northern tip of South America on Colombia's Caribbean coast.
In 2014, it was positioned second-busiest container port in South America and the fifth in the Latin American (Caribbean) Region. By handling a throughput capacity of 2.23 million TEUs, the port is positioned just after ports of Balboa and Colon in Panama, Santos (Brazil) and Manzanillo in Mexico.
The annual container volume of Cartagena's Port has been increased by 13% for the period from 2013 to 2014.
With a total container throughput of 3.35 million TEUs in 2014, the Cartagena Port was positioned third, after Brazil and Chile.