Russian and Chinese Navy forces will take part in an international naval drill in the Sea of Japan next week.
The naval exercise, which will be held in Peter the Great Bay from August 20th until August 28th will include combined operations in an amphibious assault exercise, participated by sailors, marines and naval air pilots from both navies.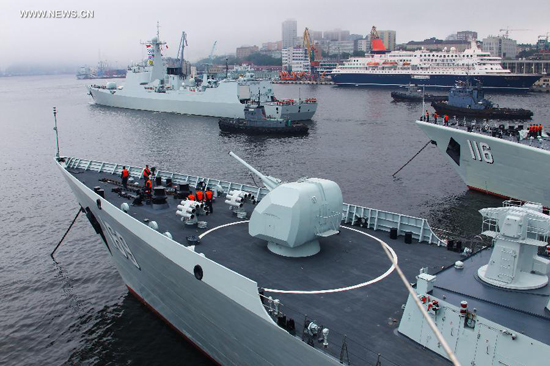 Image: news.xinhuanet
On Saturday (Aug 15) a Chinese squadron has already left the port of Qingdao in Shandong province and headed for port of Vladivostok in Russia to take part in the bilateral naval exercise.
Chinese news agency, stating a source close to the operation said that the drills "are not targeted at any third party and are not relevant to the regional status quo." In the media was underlined that the military exercise is part of annual exchange program between Russian and Chinese militaries.
The Chinese military force, which will arrive in Vladivostok includes seven warships, six shipborne helicopters, five warplanes, 21 amphibious vehicles and 200 marines.
The Russian Navy will be represented by the country's Pacific Fleet with more than 20 battleships and support vessels, two submarines, 10 warplanes, nine amphibious vehicles and an equal number of marines.
China's warships are expected to arrive at the port of Vladivostok on Thursday, August 20th and will be opened for civilian visitors.
During the drill, all vessels, aircrafts and troops of both navies will be operating in five combined naval groups and four Air Force groups. The military tactics will be exercised in the territorial waters of Russia and in neutral waters of the Sea of Japan.
Up to the moment, the Chinese Navy has not participated in military exercises in the Sea of Japan, which borders with Japan, North Korea, Russia and South Korea.
It was declared that the main purpose for the drills is practicing protection of naval communications, anti-submarine training, air defense exercise and anti-ship actions.
The joint naval exercise called Joint Sea-2015(II) will be held approximately 650 km from the Japanese coast and off the coast of Primorsky Krai in the Pacific region of Russia.
For the first time, the Navy of the People's Liberation Army of China and the Russian Pacific Fleet will be part in a joint amphibious assault drill.
The first smaller Joint Sea exercise took place earlier this year in the Mediterranean Sea from May 11th until May 21st.
Meanwhile, the Russian Navy has agreed to take part in naval military exercises together with its Asia Pacific allies in the disputed South China Sea next year.
Sergey Lavrov, Russia's Foreign Minister commented earlier in August for Asian news media:
"We are strongly in favor for any dispute in South China Sea, in East China Sea, in any sea for that matter, to be resolved on the basis of the international law, including, first of all, the 1982 Law of the Sea Convention, on the basis of the declaration signed between China and ASEAN [Association of Southeast Asian Nations]. On this basis the countries directly involved in any dispute should find mutually acceptable solution without any outside interference."