The Norwegian Shipowners Association has voted with a majority of NO regarding hazardous ship beaching, thus becomes the first country to focus on discouraging its shipowners from conducting such activities.
"We simply can't defend practices of such that scrap vessels in a manner that poses danger to the health of people and the environment. Thus, we have decided to go ahead and say NO to the beaching practice of ships," commented Sturla Henriksen, NSA CEO.
Most vessels have a 25-35-year lifespan, after which they begin to decrease in efficiency and need costly repairs that cut down on the profits they generate and is thus common sense that they are scrapped.
According to the data analysis conducted by the NGO Shipbreaking Platform, over 136 vessels out of the total 213 that were sold for the purposes of getting scrapped during 2015's Q2 ended their respective operational lives on South Asia's beaches. Forty-five of the said vessels were property of Europe-based shipowners, which includes EFTA owners – one Switzerland-based and two Norway-based.
South Asia –based scrapyards, specifically ones based in Pakistan, Bangladesh and India are currently responsible for roughly 90% of the large ship cut capacity of the world.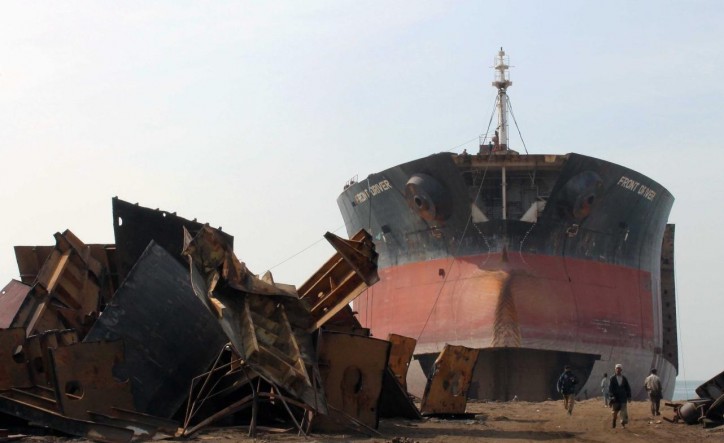 Photo: NGO
There are some major differences between the yards in question, but a common characteristic among them is the fact that they pose great dangers for their workers who are often not equipped with the required protection gear and sustain injuries due to accidents that have a tendency of being fatal.
In the time period of April-July of this year, the Platform was able to document at least six fatal accidents that took place in Bangladesh's shipbreaking yards. It also accounted for tree severe injury cases in the same period.
"We harbor expectations that Norway-based shipowners are to now follow the lines of the strong advice voiced by Sturla Henriksen and the whole Norwegian Shipowners Assocation. I give you my guarantee that Bellona is going to continue naming and shaming Norwegian shipowners that choose to neglect the dangerous effects of such hazardous practices," commented Sigurd Enge, Bellona Foundation advisor.