ReCAAP Information Sharing Center has released an incident alert regarding piracy attacks in the Straits of Malacca and Singapore.
On August 21 and August 22, six vessels sailing in the eastbound lane of the Traffic Separation Scheme (TSS) in the area reported to Singapore Vessel Traffic Information System (VTIS) via VHF about five unauthorized boardings and an attempted one.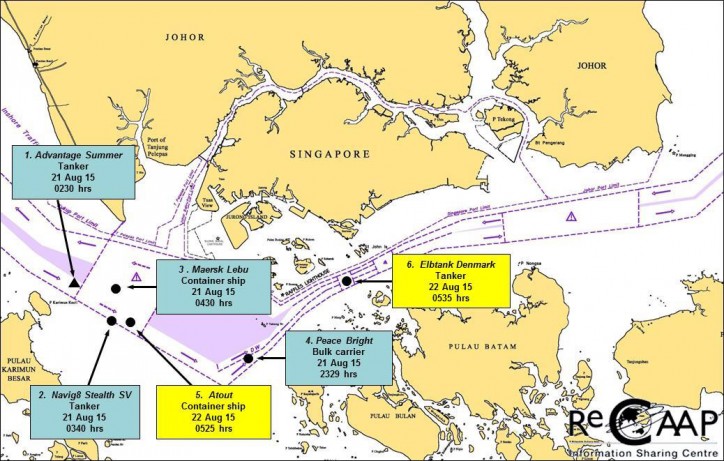 The Port Operation Control Center in Singapore (POCC) immediately notified the authorities of the littoral States and initiated navigational broadcast to warn mariners to maintain anti-piracy watch.
The six vessels involved were the tankers Navig8 Stealth, Advantage Summer and Elbtank Denmark; the containerships Atout and Maersk Lebu; and the bulker Peace Bright.
According to ReCAAP center in all attacks were involved four or five pirates, armed with knives, the vessels crew was able to raise the alarm and in all cases the perpetrators fled without harming the crewmembers.
There is no information for loss of property during the unauthorised boardings except a report for stolen personal belongings from Elbtank Denmark.
ReCAAP believes that the perpetrators could possibly be from the same group considering the close interval of time and proximity of the incidents.
Specialists say as a conclusion from the incidents, which occurred lately in the Straits of Malacca and Singapore, that enhanced vigilance, early detection of suspicious perpetrators and activation of the alarm immediately are key actions towards preventing boarding.