At 10 a.m., Saturday, August 22nd of this current year, the United States Navy carried out the keel laying ceremony for the 2nd Gerald R. Ford-class aircraft carrying vessel that is the John F. Kennedy (CVN 79).
John F. Kennedy (CVN 79) serves as the 2nd aircraft carrying vessel that honors President John F. Kennedy for his role as a lifetime of service to the USA as a trusted leader and servant of the public. He was first a Naval Officer and afterwards became the 35th President of the USA, serving from 1961 to 1963. President Kennedy's daughter, Ambassador Caroline Kennedy, is the sponsor of the ship.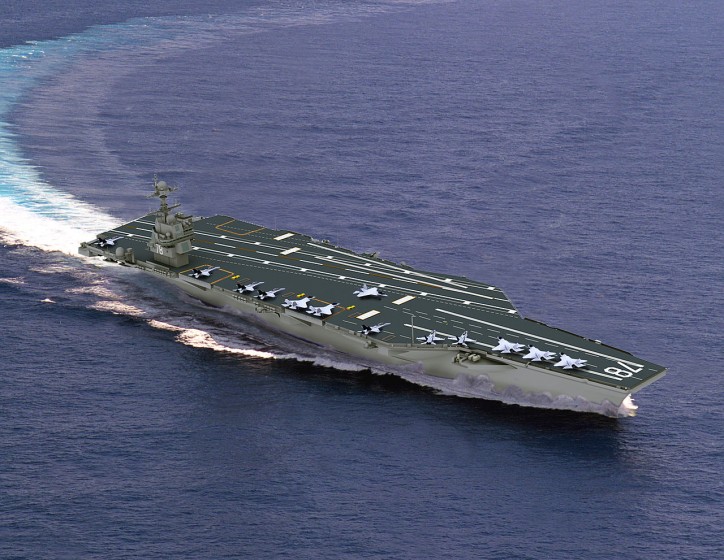 Artist's concept of the first Gerald R. Ford-class
"The CNV-79's keel laying ceremony served as a significant milestone, returning a John F. Kennedy carrier back to our fleet, thus continuing the name's rich tradition. President Kennedy was also a Sailor, along with an inspiration leader, a man who was able to deeply understand the Navy's important role and its presence, which is going to be enabled soon for the following decades by this excellent vessel. A vessel that is the product of our co-op efforts with the shipbuilding industry and the tireless efforts of men and women who are responsible for bringing our vessels from the conceptual field into the reality one," commented Honorable Ray Mabus, Navy Secretary.
Lt. j.g. Kennedy was responsible for commanding a Motor Torpedo Boat Squadron that operated in the Pacific during WWII. On August 2nd, 1943, his PT-109 torpedo patrol boat was rammed and cut in half during a night patrol by a Japanese destroyer vessel. Even though he suffered a serious back injury that stayed with him for the rest of his years, he managed to help his crew reach safety. He was awarded the Navy and Marine Corps Medal, along with other citations.
The first ever John F. Kennedy (CVA 67)'s christening ceremony took place on May 27th of 1967. Big John as the ship was named carried out a total of 17 deployments, participated in strike operations against Iraq along the lines of 1990-91's Desert Shield and respectively Desert Storm operations and took part in numerous training exercises all around the globe. An initial training exercise that was supposed to last two weeks unraveled itself into a true odyssey of 35,127 miles en route to the Mediterranean, lasting for six months after serious periods of tension in the regions of the Middle East popped up during 1970's second half. Having gone through almost four decades of providing its services, the last of all conventionally-powered aircraft carriers was decommissioned on August 1st of 2007.
John F. Kennedy (CVN 79) serves as the numerical replacement of the USS Nimitz (CVN 68), which should be appointed for inactivation procedures in the year 2025. The Gerald R. Ford-class is going to be the premier forward asset regarding situations revolving around crisis response procedures and early decisive striking power in important combat operations for the 21st century. Gerald R. Ford-class aircraft carrier vessels, as well as their embarked aircrafts and other various strike group units are going to be responsible for providing the necessary capabilities regarding sea control, forward presence, power projection, deterrence, humanitarian assistance and maritime security. The class is notable for bringing a higher level of warfighting capabilities, reduced total expenditures and improved life quality for sailors.
The vessels of the said class are roughly 100,000 tons, have a length of approximately 1,092 feet, a 134-foot beam and an operating speed level of over 30 knots. Their propulsion system comprises of two nuclear reactors and four shafts. Every single vessel is going to account for savings in the amount of roughly USD 4 billion regarding total ownership expenditures during its service life of 50 years, in comparison to their respective counterparts of the Nimitz class that they will be replacing.