The Odfjell Group reported its best quarterly performance since 2008's Q3, with a 2015 Q2 in the net amount of USD 7 million.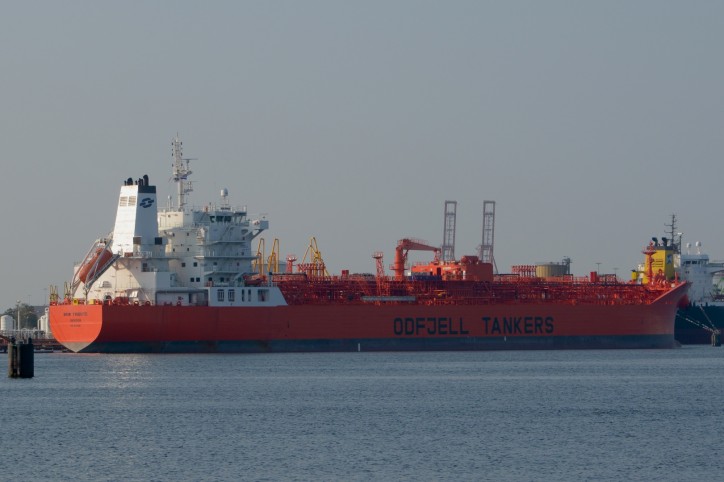 Photo: John Jansen
The group focuses on the transportation and storage of bulk liquid chemical, edible oils, acids and other various special products. It commented that it noticed a generally improving chemical tanker market with earnings recording an increase in the deep-sea segment and in the remaining regional operations. The chemical freight index of Odfjell recorded a surge of 5% in comparison to Q1.
The group issued reports displaying improved results from its Odfjell Terminals segment, with an USD 18 million EBITDA first half for the year. The company commented that performance levels were boosted partly by the high demand regarding spot and mid-term storage that was the result of contango in the oil market. The Tianjin-based terminal of the company did not suffer any direct effects caused by the explosions at the port that occurred earlier this month, and the group has expectations of operations commencing undisturbed later on in October.
Odjfell further added that its cost-cutting and efficiency program is going in accordance to initial plans and is set to amount to savings in a total of USD 100 million. The restructuring plan resulted in 85 position cuts at the group's Bergen-based office, along with the divestment of the company's last three remaining tanker vessels carrying out trading operations in the rather unprofitable short sea market of Europe in June of 2015.
The group commented its expectations of recording Q3 numbers similar to those of Q2 regarding its chemical tankers on an even more reduced cost basis, but with a softer market. Odjfell expects its terminals to account for stable or improved earning levels.