On August 26 a christening ceremony took place on Changxing Island in Shanghai where Orient Overseas Container Line (OOCL) celebrated the naming of the latest 8,888 TEU containership OOCL Genoa.
The vessel is expected to join the company's fleet this year and will be deployed to serve the OOCL South China two service.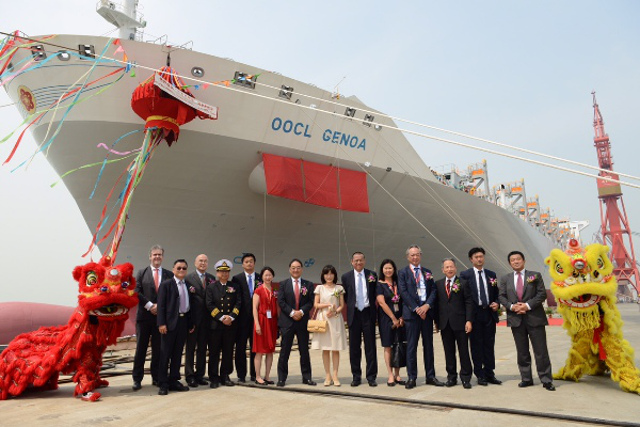 Image: OOCL
Many honorable guests and institutional supporters were present at the event. The new ship was named by ship sponsor Mrs. Tamiko Onaka at the newest shipyard of Hudong-Zhonghua Shipbuilding (Group) Co., offering blessings to the ship and her crew.
"In today's extremely competitive environment, cost and operational efficiency is paramount to our performance and these magnificent vessels, like that of OOCL Genoa which we are about to unveil, plays a very important part to our success" said Alan Tung, Orient Overseas acting CFO.

"OOCL Genoa, together with the other seven sister vessels being built here at Hudong, will form part of our core fleet and play an important role in allowing OOCL to maintain its competitive edge in the market," he added.
The vessel is powered by MAN B&W 10S90ME-C9.2. The OOCL Genoa is 335m-long and 42.80m-wide with a total capacity of 8,888teu.
The new supplement in the OOCL fleet will serve the Trans-Pacific trade lane and the port rotation is Da Chan Bay, Hong Kong, Yantian, Kaohsiung, Long Beach, Kaohsiung, Xiamen, Hong Kong and Da Chan Bay in 42-day round trip.