Mitsui O.S.K. Lines (MOL) has come out and made an announcement that it has initiated demonstration tests regarding a new containership windshield, which has the full potential of reducing resistance, saving fuel, and cutting down CO2 emission levels.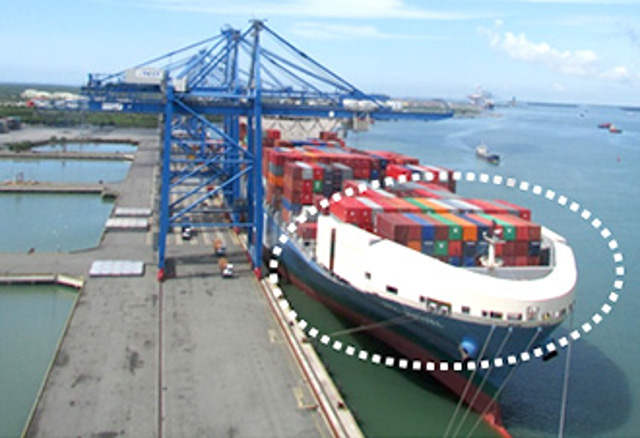 MOL managed to jointly develop the said device alongside MOL Techno-Trade, Akishima Laboratory, Ouchi Ocean Consultant and the University of Tokyo. The Joint R&D for Industry Program served as means of backing up the innovative project. The program itself is used by Nippon Kaiji Kyokai for promoting a wide range of R&D activities in a co-op effort with government, industry and academia.
The all new windshield was integrated on the MOL Marvel containership's bow, and currently a demonstration test is being scheduled to showcase its effectiveness regarding the reduction of CO2 emissions.
Given the bigger container carriers of today, it is only natural that the height of the container units loaded on their decks has also increased, thus subjecting the ships to greater wind resistance levels.
MOL acknowledged the issue in a cost-efficient manner. The new device's development stages were kicked off with an examination of the aerodynamic form of the bow via wind tunnel testing procedures. This resulted in the decision of adopting a horseshoe-shaped design, which encloses the stacked containers' front line in order to fully maximize the wind resistance reducing effect and minimize the main unit's weight. The innovative windshield comes along with enough design strength to comply with the latest ClassNK rules regarding wave impact pressure.
Additionally, by placing the container units located along the vessel's sides behind the windshield, the vessel's sides are going to be more streamlined, thus contributing for the achieving of further wind resistance reduction.
With the said measures, MOL harbors expectations of achieving a 2% annual average reduction rate regarding CO2 emission levels, assuming that the device is installed on a 6,700 TEU carrier operating on the the North Pacific Ocean route at a 17-knot speed level. The all new windshield is to also protect vessels from green water on the bow deck when having to operate in harsh weather conditions.