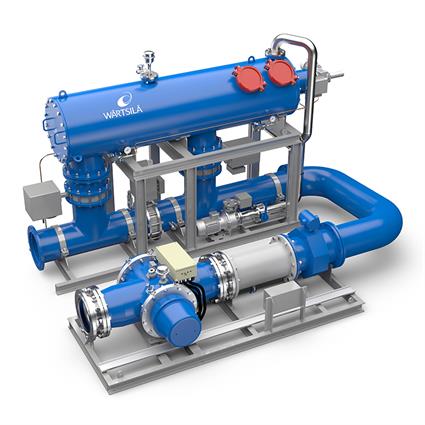 Eleven container carriers, which belong to German-based Bernhard Schulte GmbH & Co. KG, are going to be retrofitted with Wärtsilä Aquarius Ballast Water Management Systems (BWMS). The contract at hand is among the biggest single retrofit contracts issued thus far for BWMS solutions. It was signed back in July of this year.
"This major order definitely signals that ship owners are actively trying to secure procurement regarding quality BWMS in their anticipation of the IMO ballast water treaty's ratification. Wärtsilä offers the necessary experience and know-how, enabling it to offer long-term support and reliability desired by customers for their individual needs. We express our gratitude towards our agents in Germany, Wilhelm Rump KG for the valuable assistance they provided in the finalizing stages of the contract," commented Dr Joe Thomas, Ballast Water Management Systems, Wärtsilä Marine Solutions Director.
As stated by Bernhard Schulte GmbH & Co, after successfully implementing the BWMS on the newbuilds delivered since 2012, along with two pilot retrofits regarding older tonnage, the company made the decision of taking a more proactive approach for its operating fleet. Thirty-eight of the vessels have been scheduled to undergo BWMS retrofit procedures over the duration of the following 5 years. Wärtsilä was deemed by the company as being a reliable partner, possessing the required capabilities as well as resources for supporting the sizeable project's first portion.
The 11 ships that are to be retrofitted fall under the management of the affiliate Bernhard Schulte Shipmanagement via its Hong Kong, Greece, Singapore and India –based offices. All are container carrying vessels falling in the 2,600-5,600 TEU range. The Wärtsilä systems' delivery is to commence this current year and is going to be finished in 2017. Bernhard Schulte and Wärtsilä have further expanded their co-op efforts in the last few years in both the retrofit and newbuilding sectors.