SeaOrbiter was designed by architect Jacques Rougerie as an oceanic exploration vessel as well as a universal scientific laboratory.
It is going to be the first ever facility able to offer explorers the necessary capability of conducting oceanic missions underwater for 24/7 at a six-month stretch or more.
SeaOrbiter SAS is responsible for developing the project. It is a company that comprises an international team of some of the leading experts in their respective fields, with Jacques Rougerie serving as head of the team. The project has received enormous support from a list of academic, industrial, scientific, technological, media and educational parties.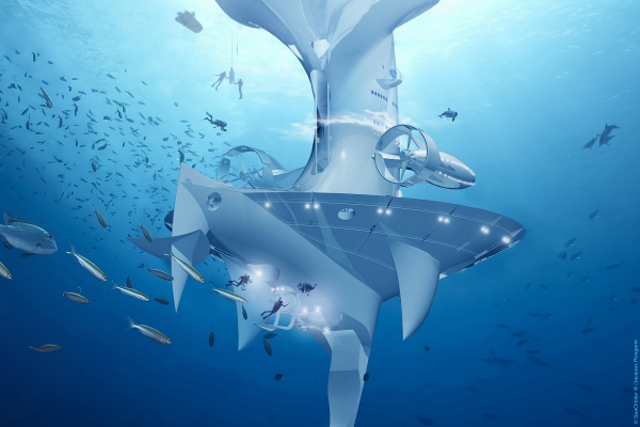 Image: SeaOrbiter / Jacques Rougerie
After it is completed in 2016, the vessel is going to go through a six-month trial period in the Mediterranean Sea, carry out exploratory operations there for approximately a year, after which it is going to be appointed for performing long-term missions in the waters of the Atlantic Ocean.
Building of SeaOrbiter
The ocean exploration vessel's first component, the Eye of SeaOrbiter, was finished back in May. The 18-meter-high component is going to accommodate the lookout post of the vessel, serving as an integral part of its communication systems.
Its construction cost a total of €325,000 (around $363,283), and was carried out via donations from the crowdfunding platform that is KissKissBankBank. The component was built at ACCO's shipyard.
The recyclable type of aluminum, called Sealium, was created and subsequently patented by Constelium. It is the key material regarding the vessel's construction.
Design specifications of the SeaOrbiter
The vertically aligned vessel is going to have a height of 58 meters, a weight of 550 tons and a 2,600-ton displacement. Its position is going to be partly 27 meters above the water level and respective partly 31 meters below water level.
It is going to be able to provide accommodations for a maximum of 22 people and is going to receive a daily provision supply via the use of boats. The crew will consist of six members for vessel operations, four researchers or scientific operators, six aquanauts for the purposes of developing particular programs in the hyperbaric laboratory of the vessel and two multimedia operators.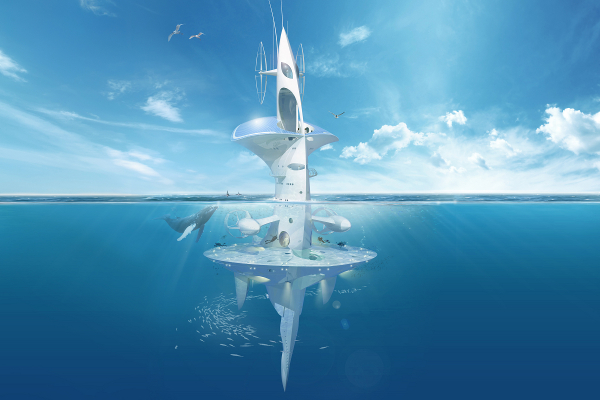 Image: SeaOrbiter / Jacques Rougerie
SeaOrbiter is going to be able to access ports by folding up its keel of 180 tons and readjusting its ballast system, thus managing to reduce its draft to a minimum of 8 meters.
SeaOrbiter equipment and facilities
The vessel's equipment will feature its very own wind turbine as well as a 350m² solar facility that will satisfy its electricity-related needs.
Other areas and facilities aboard the vessel include an outside deck equipped with two handling cranes, an above-water, retractable, rear access ladder that can be lowered to the sea and a winch and abyssal platform.
The vessel will be capable of deploying various exploratory devices under water and operating in silent mode.