DNV GL classed car and passenger ferry Ampere, which is the world's first fully electric ferry, has won the Ship Efficiency Award in the category Environmental Technology.
The prize is given to vessels with innovative solutions which have contributed to reducing the environmental impact of shipping operations.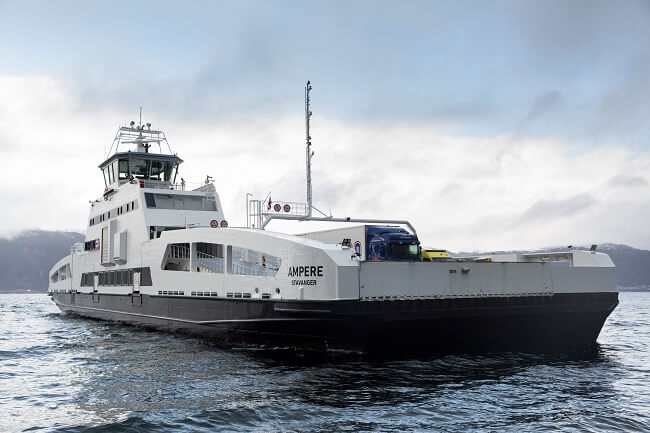 Image: Siemens
The 80-metres long passenger/Ro-Ro cargo ship Ampere is one of three ferries operated by the Norwegian shipping company Norled between Lavik and Oppedal. It has the capacity to carry 120 cars and 360 passengers.
At the ceremony Claes Skat-Rørdam, representative of the award sponsor Hempel said:
"Ampere is trading in Sognefjord with 100 per cent regularity and consumes 50 per cent less energy compared with a traditional diesel ferry on the same route. It has proven to be a huge success for Norled."
Tord Helland, Norled' Finance Director, who accepted the award on Sept 9 in London also commented:
"The Ship Efficiency Award is not only recognition for the hard work we have done with our project partners, but it also confirms our efforts and contribution to the global climate goals by reducing air pollution."
According to Helland, the electrical ferry can save more than 1 million litres of fuel per year, thereby preventing 2,640 tonnes of carbon dioxide from entering the atmosphere.
He also explained that the ferry Ampere runs 34 times a day with a crossing time of 20 minutes and between its trips the 1MWh lithium-polymer battery pack on board can be charged in only ten minutes.
Stephen Bligh, Head of Shipping Advisory UK at DNV GL said:
"We are honoured that Ampere has received this internationally coveted award. As a classification society, together with the shipyard Fjellstrand and the various technology providers, we have helped to make the vision of operator Norled happen and demonstrated that new clean technologies don't compromise market competitiveness."
Related news: First in the World Electric Car Ferry Enters Service