Among this year's Hamburg Cruise Days highlights were one blue port, a spectacular parade, seven cruise ships and an astounding land program. The organizer's expectations are for 570,000 visitors for the whole weekend. Once again, Hamburg turned its port into a stage for the cruise industry to "put on a show".
On Friday, the Amadea - the all new dream ship from the German TV series – and the Costa neoRomantica both visited the Hamburg port. On Saturday, MS EUROPA, Mein Schiff 4 and AIDAbella docked in the port.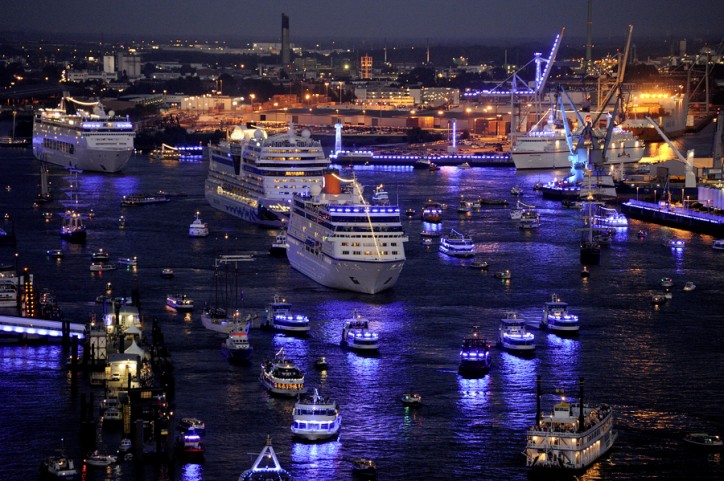 At exactly 9:20 p.m. on Saturday, the moment the people were waiting for came to be: the Hamburg Cruise Days Parade unrolled while hundreds of thousands watched on the banks of the Elbe. The cruise liners Mein Schiff 4, AIDAbella and MS EUROPA sailed down the River Elbe, accompanied by countless sailing vessels, passenger ships and barges. The port itself was bathed in magical blue light along the lines of the Blue Port Hamburg project. Every single one of the ships received a warm welcome with its own fireworks show and was sent on its journey with a special personalized laser message.
On Sunday, another two iconic vessels visited the Hamburg port: MSC Splendida and Queen Mary 2.
The Hamburg Cruise days serve as the amazing finale to a 10-day period filled up with exciting cruise events. The Hamburg port went along with the Hamburg welcomes you on board motto and was transformed into a Blue Port as mentioned above. The man responsible for illuminating the port in blue light was the renowned artist that is Michael Batz. The international cruise industry businesses held their meeting for SeaTrade Europe, which is the leading trade fair of Europe and the Cruise Lines International Association CLIA decided to carry out its Ports and Destination summit here in Hamburg.
The City of Hamburg decided to undertake the strategic decision of combining the Hamburg Cruise Days event with the industry events and thus managed to further promote it as well as strengthen the city's claims towards being Northern Europe's cruise capital.